Where Is Peter Rabbit?
Based on the original tales by Beatrix Potter, devised by Roger Glossop, lyrics by Alan Ayckbourn, music by Steven Edis
Phil McIntyre Entertainment & Frederick Warne & Co Ltd
Theatre Royal Haymarket
–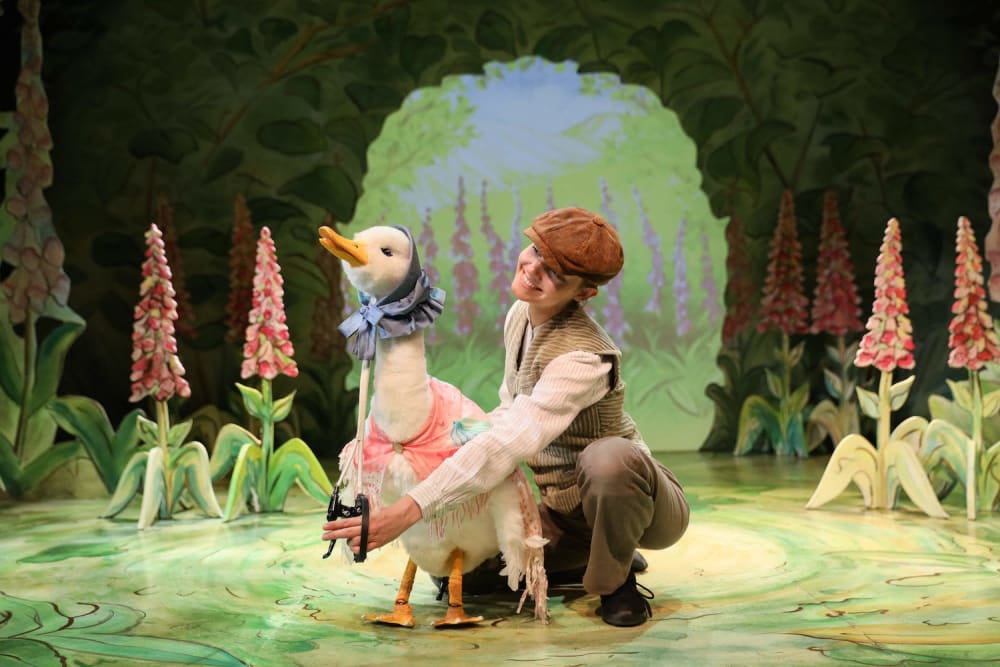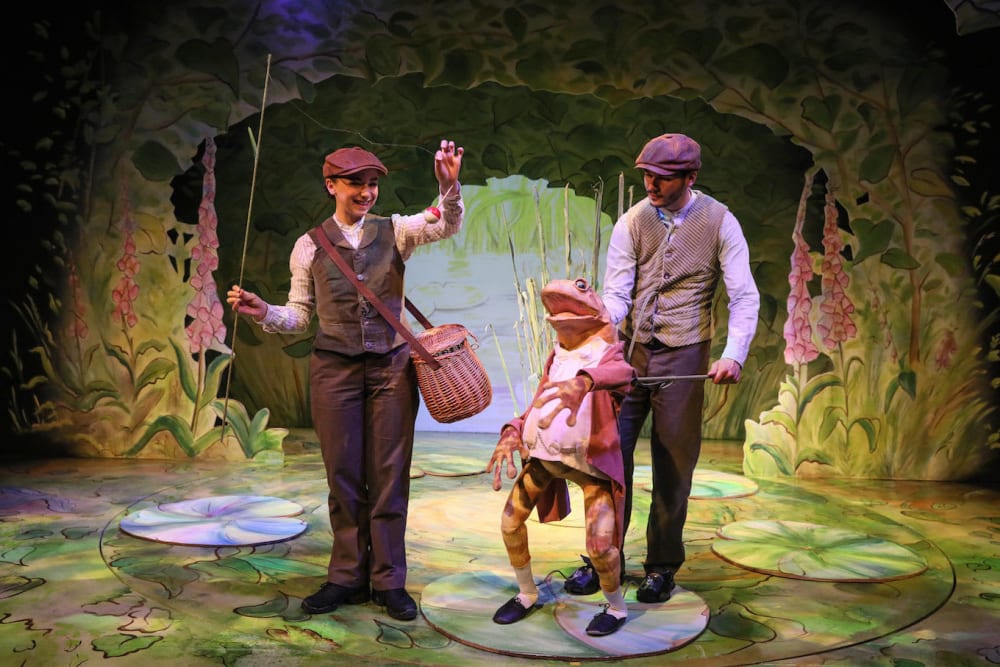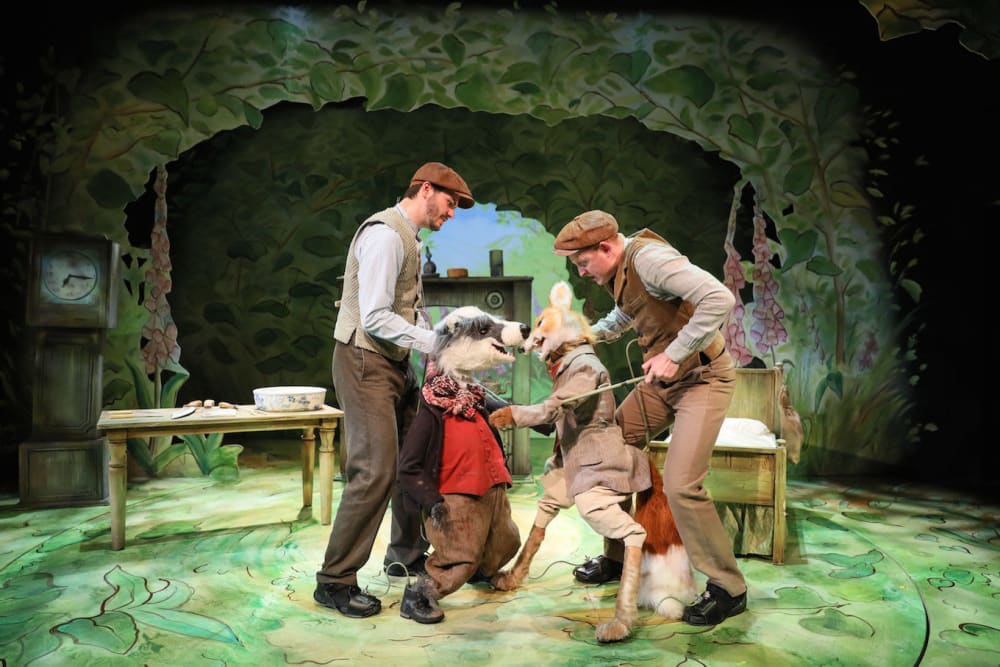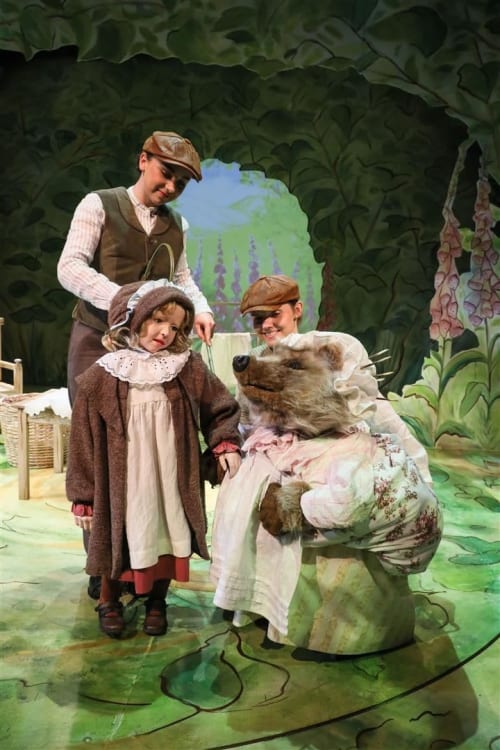 This adaptation of some of Beatrix Potter's animals stories was created to celebrate the 150th anniversary of the author's birth in 2016 and first staged at the Old Laundry Theatre in Bowness-on-Windermere. It does an excellent job of making Potter's pictures three-dimensional and transferring her stories to the stage simply and without elaboration.
Deviser and designer Roger Glossop has created a setting in the style of Potter's watercolours and brought her characters to life in the form of instantly recognisable puppets created by a team led by Caroline Dalton and operated by actors who add personality to each of their characters.
Joanna Brown appears as Beatrix Potter to start the show. She introduces herself and, before beginning to tell her stories, calls on Jemima Puddle-Duck (Grace Osborn) to help her find Peter Rabbit (Charlotte Harrington) who has gone missing.
The tales themselves (five favourite ones) are largely narrated, acted out with little dialogue. The Tale of Mr Jeremy Fisher, the frog (Samuel Knight) who goes on a calamitous fishing trip, being nearly swallowed by a big fish, is told in recorded voice-over by Griff Rhys-Jones. He also narrates The Tale of Peter Rabbit, the mischievous young rabbit in the familiar blue coat who goes stealing carrots from the garden of Mr McGregor (Matthew Whitby) and nearly gets caught by him. The storyteller of The Tale of Mrs Tiggy-Winkle and of The Tale of Jemima Puddle-Duck, is Miriam Margolyes and we also get The Tale of Mr Tod, its author recounting how badger Tommy Brock (Samuel Knight) outwitted that predatory fox (Matthew Whitby) in a struggle that demolishes most of the furniture.
The performers / puppeteers are all clad in Edwardian caps and waistcoats that match the style of Miss Potter's attire. Adding masks turns them into Mr McGregor and his elderly colleagues, making them more like puppets, and little Lucie, who visits washerwoman Mrs Tiggy-Winkle, a puppet (operated by Charlotte Harrington). Squirrel Nutkin and other animals that don't have roles in these particular stories are also introduced but in image only. As well as the occasional song, the scene changes are carried out by the cast as musical numbers choreographed by director Sheila Carter.
She gets lively performances from the whole cast, with Miss Potter's RP accent echoed by Jemima and the actors projecting strong performances through their puppets, right down to Mrs Tiggy-Winkle's nose twitches, the transfer helped by the synchronisation provided by linking puppet feet to actor shoes.
Where Is Peter Rabbit? is gently entertaining, capturing the spirit of these tales that have been loved for over a century. At just under an hour, it is not too long for the youngsters the books were meant for, and though its animals are anthropomorphised not too sentimental: Miss Potter realistically reminds us that eggs get eaten and that to gardeners like Mr McGregor "the only good rabbit is a dead one," preferably ending up as dinner. Accompanying adults may find it a nostalgia trip back to childhood.
Reviewer: Howard Loxton