While the Sun Shines
Terence Rattigan
Top Goat Theatre
Lion & Unicorn Theatre
–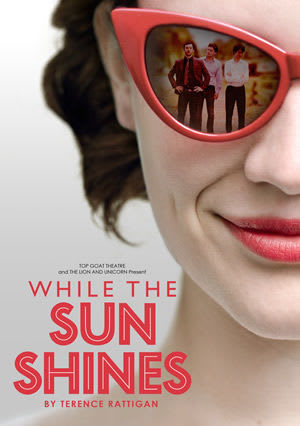 Rattigan it seems is back in fashion. This Second World War comedy had a revival only six months ago at Pentameters in Hampstead. He was a fine playmaker and a keen observer of humanity so it is good to see his work once again appreciated but fashion is a matter of ups and downs and this is the kind of light-hearted West End romp that set Rattigan in a different camp from Osborne and the Royal Court writers in the 1950s. It opened on Christmas Eve in 1943 and ran for 1,154 performances at the Globe (with Flare Path still running next door at the Apollo).
That great critic James Agate hailed it as "delightful, a little masterpiece of tingling impertinence". Indeed it may have seemed so to a forties but its escapist silliness, ideal perhaps for a wartime audience looking for relief, and its setting do make it the kind of play against which the admirers of the so-called "angry young men" were reacting.
It is a farce about an Englishman, an American and a Frenchman, set in the Albany chambers of the Earl of Harpenden. He is an upper-class twit who is in the Navy as an able seaman because he has ballsed up every Admiralty interview for being made an officer. He's only on leave for a couple of days so that he can marry the daughter of the Duke of Ayr and Stirling. Lady Elizabeth is a corporal in the WAAF and not too bright either—she was a sergeant but she's lost a stripe for some kind of cock-up (for some unfathomable reason this production not only keeps her sergeant's stripes but adds a staff sergeant's crown). If you add the improvident gambler father of the bride to be, the Earl's manservant and a louche young lady called Mabel Crumb everything is set for aristocratic buffoonery.
It starts with a wickedly camp twist. Manservant Horton, whom Bret Jones gives a Jeevesian air and a withering look, discovers Bobby Harpenden in bed with another man. All innocent of course, but Rattigan must have been quite pleased to get that past the Lord Chamberlain's office. It is American army officer Lieutenant Mulvaney who rolled out of a club incapable and Bobby rescued him. Bobby has to go out but he sets up Mulvaney with Mabel: except that Elizabeth turns up and, thinking she is Mabel, the American goes into seduction mode. Elizabeth has adopted a lost sheep too; she has invited a Free French officer to also share Bobby's bed space and he turns up later and turns on his Gallic charm.
It is a well-plotted farce but needs a slightly more satirical edge than it finds in Marieke Audsley's lively production. Freddie Hutchins's Bobby and Greer Dale-Foulkes's Elizabeth are just a little too likeable. Hutchins rages wonderfully in a scene of vermilion apoplexy and Dale-Foulkes get nicely sozzled but they could play their doltish incompetence more strongly, Patrick Rogers makes the Duke despicable but, because he looks too young to be Elizabeth's father, tips into caricature. These fatuous aristos are presented far too kindly.
Iestyn Arwel makes a relaxed US officer and Mark Conway a dapper French one (shouldn't he too have been in uniform? perhaps a budget problem) but it is Sophia Sibthorpe's Mabel Crum and Bret Jones who catch the farce's spirit best.
Reviewer: Howard Loxton