Whipping It Up
Steve Thompson
New Ambassadors
(2007)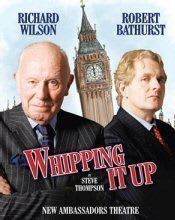 No surprise that Steve Thompson has reshaped and updated his parliamentary satire for its transfer from the Bush to the West End.
A week in politics is proverbially a long time and with Blair's New Labour project in disarray, a Cameron-led administration by Christmas 2008 now seems more likely than laughable, although Thompson still takes sly digs at the Tories.
The setting is the Government Whips' office on the night of a three-line whip, the newly-elected Tories holding on to power with a slender majority of only three, not helped by having their Prime Minister in a plane somewhere over the Atlantic, nursing a sore toe after the US president ran over his foot in a golf buggy.
As the Commons late-night sitting slowly works its way towards a crucial division, the Tory bully boys are busy in their back room ruthlessly wielding both stick and carrot to bring Conservative waverers to heel, spurred on by fears of unscrupulous Labour tactics. There are even rumours that disaffected backbenchers may risk a confidence vote in a bid to topple the leadership.
At issue is a Tentpole tax, meant to keep Gypsies and 'travellers' on the move. But its potential knock-on effect for Boy Scouts has the constituencies in an uproar and angry protesters milling around in Parliament Square looking for trouble.
This has been described as a political satire, and there are certainly plenty of well-researched in-jokes and unparliamentary language to keep us chuckling. But Thompson's underlying comic revelation is that Government ministers and their whips will do almost anything to hold on to their jobs and their patronage, while the Opposition wants to kick the buggers out, clearly suggesting that political issues, as such, have little to do with the daily facts of life at Westminster Towers.
Structurally the play remains untidy with several loose ends. The Christmas context, while it may have offered some ironic resonance in Shepherd's Bush in December, now provides Richard Wilson as the Chief Whip with no more than an awkward out-of-season opportunity to make his entrance as an acid-tongued Victor Meldrew figure in a Santa Claus outfit.
A side plot featuring an investigative journo from the Observer (Kellie Bright), digging for dirt about the misbehaviour of senior politicians, confuses rather than adding media colour. And a false ending, spirited enough to have us clapping as if for the curtain call, is followed by further action meandering on to an uncertain climax when one of the whips gamely falls on his sword to save reputations — or rather, packs his cricket bag like end-of-term at a boy's public school.
But Tamara Harvey's bold restaging of Terry Johnson's original small-scale production — now with a full set of green-baize panelled doors leading to the corridors of power and the 'torture chamber' — fully deserves its West End presentation; as do her cast members brilliantly repeating their roles.
Nicholas Rowe plays a closet gay backbencher, tinged with conscience, who in a scene of masterly comic timing is firmly put in his place by Robert Bathurst as the suave Deputy Chief whip, before succumbing to false offers of preferment and office from Lee Ross as the cheeky Junior.
Richard Wilson is perfect casting as their foul-mouthed irascible Chief putting total loyalty to the party before propriety, maintaining dossiers and slush funds, and whose recipe for winning is to "punch lower than the other bloke."
But the evening's secret weapon is Helen Schlesinger's Labour whip, a flirtatious, slinky vamp smooching her Tory opposite number while slyly outmanoeuvring the boys with a cunning coup that, according to the detailed programme notes, is based on a real-life event.

Philip Fisher reviewed this production at the Bush Theatre
Reviewer: John Thaxter