Whisky Galore
Oldham Coliseum, Hull Truck Theatre and New Vic Theatre
Philip Goulding, based on the novel by Compton Mackenzie
York Theatre Royal
–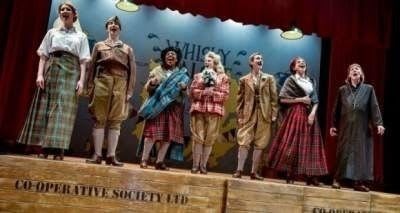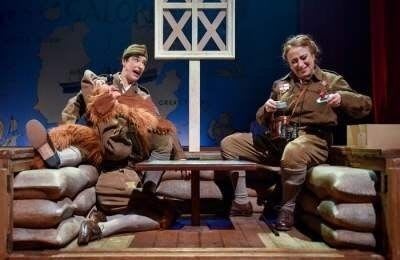 The 1949 film version of Whisky Galore, directed by Alexander Mackendrick and starring Basil Radford, is regarded by many film lovers as one of the glittering jewels in the crown of Ealing Studios. I, however, am unable to proclaim such enthusiasm.
Compared to the savage genius of Kind Hearts and Coronets, which was released in the same year, Whisky Galore seems to me irritatingly witless and twee. That being said, I approached this stage version of Compton Mackenzie's 1947 novel with hope in my heart because the fascinating real-life events which inspired the book cry out for dramatic reinterpretation.
On 5 February 1941, the SS Politician—an 8,000-ton cargo ship—sank off the coast of Eriskay, a small Scottish island in the Outer Hebrides, and dumped its cargo of 264,000 bottles of whisky into the sea. In order to dodge the customs officials who came in to investigate, many islanders attempted to salvage what they could under the cover of darkness. In total, it's estimated that 24,000 bottles were "liberated" by local men and women.
This historical episode forms the narrative backbone of both the original novel and Philip Goulding's adaptation. With whisky and beer in short supply due to the world war going on around them, the eccentric inhabitants of Little Todday and Great Todday decide to liberate all the booze they can from a sunken ship.
The major innovation that Goulding makes to the source material is his decision to frame the drama as a play-within-a-play. Whisky Galore pays tribute to the Osiris Players—the UK's first all-female theatre group, who toured the country between 1927 and 1963—by presenting the ensemble cast as members of a similar fictional theatre company, the Pallas Players. It's a nifty idea, but one that adds very little to the overall show.
There are some very fine things about this production. Patrick Connellan's set design—with its mobile boxes which double as the play's various locales—is highly inventive. And some of the performances are very amusing, particularly Christine Mackie who impresses both as a disapproving mother and the cantankerous Dr McLaren.
On the whole, though, I found this production even more exasperating than the wretched Ealing film. The main culprit is the script which suffers from a terminal lack of narrative drive, resulting in a production that spins its wheels for most of its running time. It takes over an hour before the locals discover the sunken whisky, and once they do the consequences are not terribly amusing or exciting.
Upon leaving the theatre, I couldn't help but feel that a great dramatic premise had been squandered.
Reviewer: James Ballands