A Whistle in the Dark
Tom Murphy
Royal Exchange Theatre, Manchester
(2006)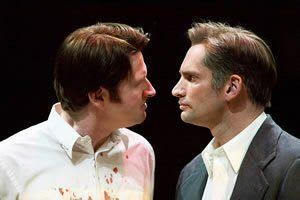 The original London production of Tom Murphy's 1961 play A Whistle in the Dark was described by critic Kenneth Tynan as "arguably the most uninhibited display of brutality that the London theatre has ever witnessed". Forty-five years on, this study of male violence and desire to dominate through physical brutality is still shockingly frank.
The play is set in Coventry in the house of Irish Michael and his English wife Betty. Michael's brothers have been staying at the house, putting a strain on the marriage, and now his father and youngest brother are coming over from Ireland too. The boys, apart from Michael, are caught up in a cult of violence, believing that they have to fight rival families to maintain the family honour, something that is encouraged by their father. Michael tries to save his youngest brother Des from being caught up in this, but the in-house fighting ends up having a tragic outcome.
Director Jacob Murray has once again shown his skill with theatrical pace as - unlike many shows at the Royal Exchange - the pace varies naturally without any parts that seem slow or dull. There is some great ensemble playing from the actors, every one of whom is very strong in his or her role. In particular, Damian O'Hare is excellent as Harry, the sadistic brother who leads the fighting very enthusiastically and who is cruelly unpleasant to Betty; Fergal McElherron is lively and funny as Mush and Gary Whelan as the father goes from brutal and occasionally vicious to pathetic.
The play is skilfully written with some clever fractured dialogue - similar to some of what David Mamet would later write - and some very honest and genuine portrayals of characters who are not at all sympathetic - and in some cases quite repellent. It is, however, very 'wordy', as it consists almost entirely of repeated verbal confrontations. This is heightened in the second half after the boys return from the big fight, as the arguments go in circles and make the act seem too long. The ending is shocking - if not entirely unpredictable - and brings about a profound change in the family the instant it happens.
This is a very strong production with a superb cast and returns to the stage a play that is well worth reviving. In the best Greek traditions the violence is kept mostly offstage, but it is still more disturbing to watch than many plays that have put acts of violence before the audience on stage (or screen) to try to shock them. The characters and situations are real and believable and are no less relevant now than they were forty-five years ago.
"A Whistle in the Dark" runs until 25 March 2006
Read Philip Fisher's interview with writer Tom Murphy at the 2005 Edinburgh Fringe
Natasha Nicoll reviewed this production when it transferred to the Tricycle, Kilburn
Reviewer: David Chadderton