White Caps
Wilkie Branson
Champloo Dance Company
York Theatre Royal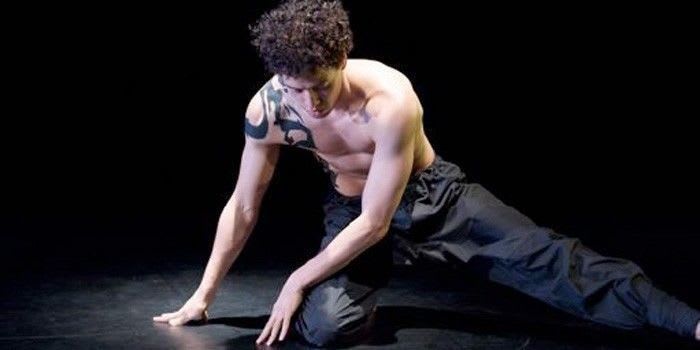 York Theatre Royal's laudable TakeOver initiative once again comes up trumps with a fascinating dance/film hybrid performance which holds audiences transfixed.
Under the direction of Wilkie Branson, the Champloo Dance Company borrows liberally and indiscriminately (in the best sense) from street dance, capoeira and free running, mixing flowing and beautiful live performance with filmic interludes. These are projected onto a massive gauze at the front of the stage, and in the show's opening moments, stunning super-slow-motion studio shots brilliantly merge with and frame the explosive onstage moves as dubstep throbs from the PA system.
The two performers, Branson himself along with fellow company founder Joel Daniel, move with fluidity between sections of solo and unison. Their breakdancing limbs spin with breathtaking speed, strobing under the clever lighting design. But there are moments of stillness and lyrical flow, too, and some gestures which wouldn't look out of place in the softer sections of the physical theatre worlds of Frantic Assembly or DV8.
However, this is resolutely more of a dance than a dance-theatre piece, and though Branson is, intriguingly, credited as the 'writer', there is nothing in the way of verbal text to distract from the athletic physical performances. The filmic interludes, shot in beautiful widescreen in some stunning natural locations, tell a simple, abstract narrative of two men leaving their respective homes, finding each other and journeying together to the top of a mountain. It's a loose, archetypal narrative which nonetheless provides variation and interest, leading us through the different moods underlying the live dance performances.
Occasionally, the moves available to the performers seem slightly repetitious, and Branson has made a clear decision to exclude physical interaction in the duets between the two performers (which would have expanded the potential physical palette). But the exertion, speed and agility of both performers never ceases to amaze, and the beauty of the human body in flow is celebrated by this exciting and adventurous company, through their unique combination of film and live performance.
Reviewer: Mark Smith