White Christmas
Music and lyrics by Irving Berlin, book by David Ives and Paul Blake
Michael Rose and U-Live for White Christmas on Stage (UK) Ltd
Dominion Theatre
–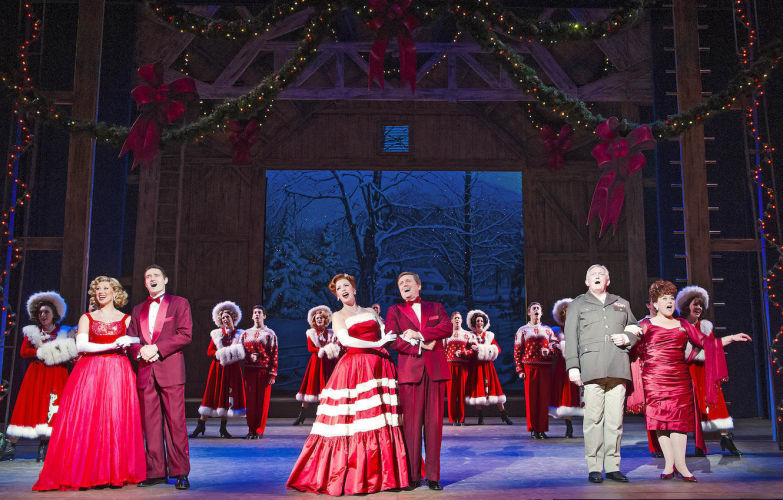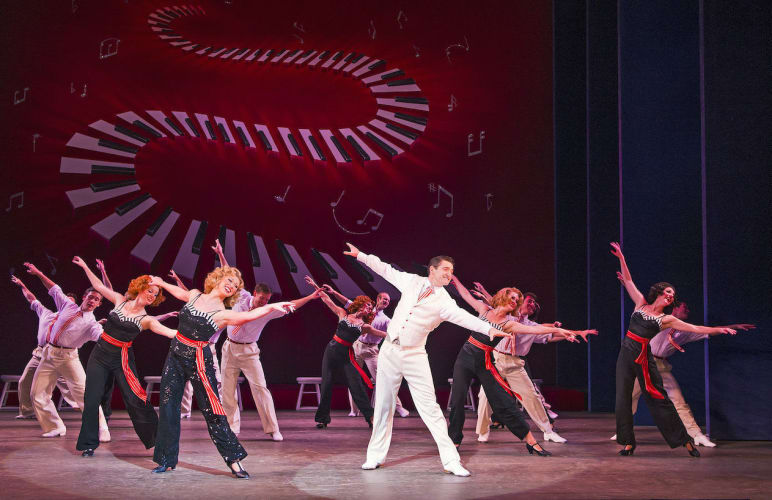 It has taken a long time for White Christmas to find its way to the West End.
Irving Berlin's song "White Christmas" is said to be the best-selling single ever. It was first heard sung by Bing Crosby in 1941 but the movie starring Crosby and Danny Kaye, which incorporates the song as well as a host of other Berlin numbers, didn't come until 1954.
It was another half century before this stage version, based on the movie, appeared, premièring in Los Angeles in 2004. Theatre Royal Plymouth saw the first UK performance two years later and that production has already toured in the provinces.
The refurbishing of the Dominion has provided a seasonal opportunity for London to catch up and with a cast that is let by Strictly winner Tom Chambers and Aled Jones, whose Strictly achievement may not have been so striking but whose "Walking in the Air" is a formidable challenge to "White Christmas" as a seasonal song.
Those two stars didn't disappoint their fans who turned out in force, along with Strictly celebrities, to be showered with snowflakes as the production reaches its titular moment.
Irving Berlin wrote some powerful songs. There are "Sisters" (stunningly sung by Rachel Stanley and Louis Bowden as Betty and Judy), "Count Your Blessings" (which Aled Jones as Bob delivers with great sincerity), "How Deep is the Ocean" and "I've Got My Love to Keep Me Warm" for starters, but this is a very old-fashioned kind of show.
It's part a "putting-on-a-show" show and it has got a boy meets girl, loses girl, gets girl plot, with a rather sentimental view of the army. There's a prologue set in 1944 "somewhere in Europe" that established the connection between Broadway performer Bob (Chambers), would-be Phi (Jones)—who team up on demob as a double act—and future producer Ralph (Jonathan Halliwell).
Tipped off to checkout the talents of Betty and Judy, they fall for them, get them down to an inn at a snow resort where lack of snow has ruined business and find it is run by their old CO (Graham Cole). Add big voiced Wendi Peters, who would steal the show as the "concierge" if she weren't such good trouper, and one of a number of young ladies as little granddaughter Susan and you've a cast who can carry it easily. They can sing, they can dance and make the audience love them—and not a great deal of acting is necessary.
Designer Anna Louizos creates a huge atmospheric barn and a glamorous nightclub and with sliding panels and drops offers a succession of small scenes from dressing rooms to a railway car that are like opening the panels of an advent calendar while Carrie Robbins's costumes are full of colour and sparkle.
A fine team of dancers make Randy Skinner's choreography look good whether tap or balletic, but it is probably right to match its period and not be too dazzlingly demanding, but that also goes for the show as a whole. It has no real surprises to generate a contemporary excitement. It is certainly enjoyable but there is a feeling of something far from momentous being blown up to big scale on a big stage.
The intimate scenes, staged like inserts in a front cloth, suggest this might have more impact in a modest studio setting—though then you would lose the opened up space and the sweep of a dance number like "Blue Skies".
Reviewer: Howard Loxton