White Christmas
Music & lyrics by Irvin Berlin, book by David Ives & Paul Blake, written for the screen by Norman Krasna, Norman Panama & Melvin Frank
Curve
Palace Theatre, Manchester
–

Listing details and ticket info...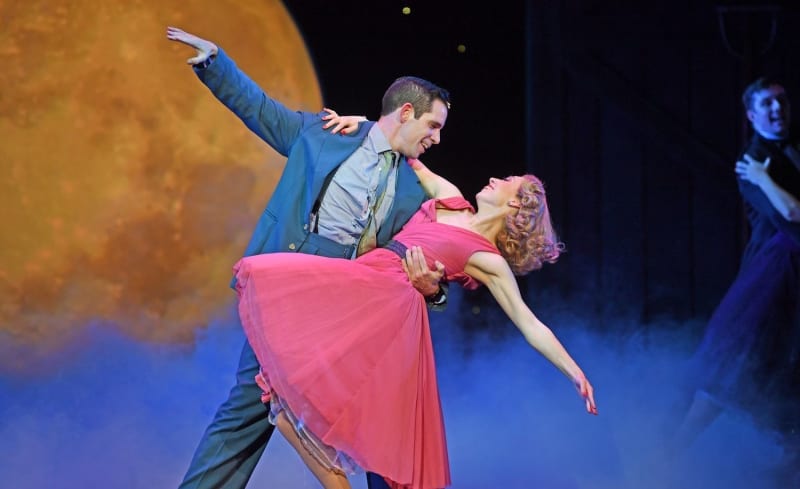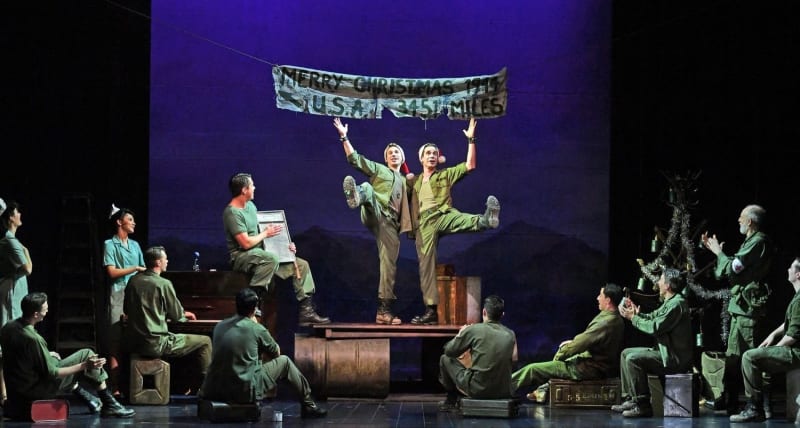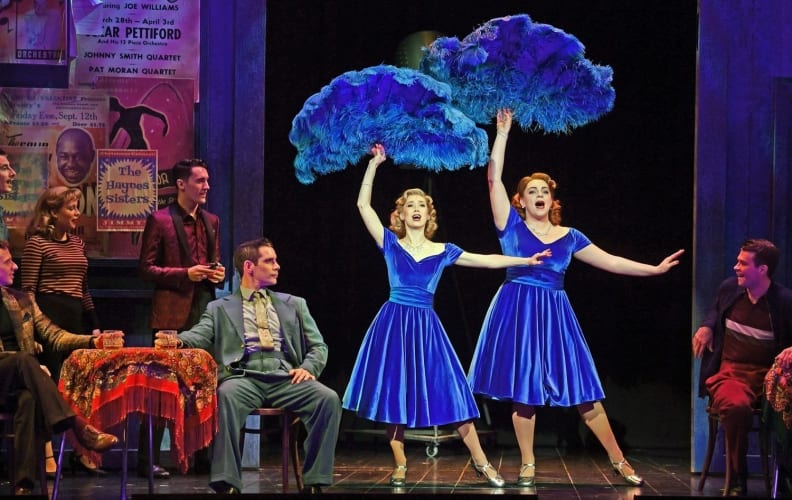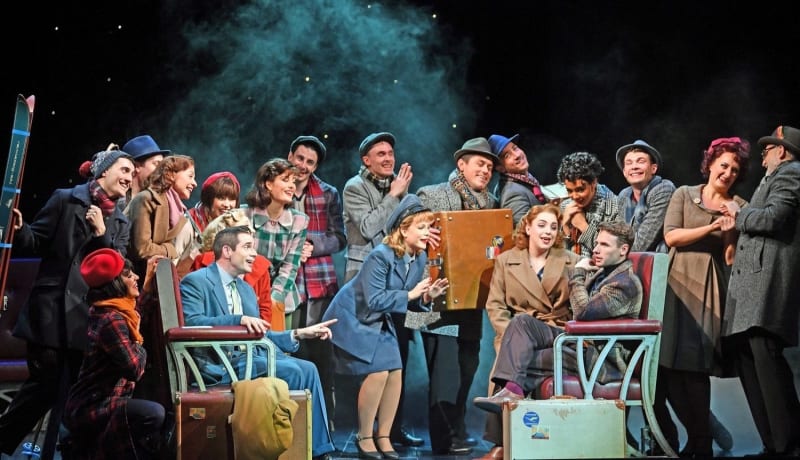 Nikolai Foster's stage production of possibly the greatest Christmas movie musical (well, there's also Muppet Christmas Carol of course) began at Curve Leicester but has taken three years to reach Manchester, what with one thing and another, with Ian Talbot directing for the tour and a mostly new cast.
The story begins in 1944, when Captain Bob Wallace (Matthew Jeans) and Private Phil Davis (Dan Burton) are entertaining their fellow troops, in the command of General Waverly (Duncan Smith), to the not-too-distant sound of gunfire and explosions. Ten years later, Wallace and Davis are a famous double-act appearing on the Ed Sullivan show (Benjamin Mundy as the famous host). They go to see the sisters of an old army pal, Betty and Judy Hayes (Jessica Daley and Emily Langham), who have formed a singing duo and, rather than ending up in Florida for Christmas, Phil drags Bob off to Vermont, following the girls.
Vermont, it turns out, is rather quiet due to the lack of snow, but just as they are about to leave, they discover that their hotel is owned by their former commander, General Waverly, who is struggling to pay the bills and has been rejected by the Pentagon for further active duties. Bob drags lots of show people up to Vermont to do something for him, without him knowing, but this is misinterpreted by some and things start to fall apart.
Of course it ends happily with a show, a touching reunion and a couple of upcoming weddings—and, of course, snow, which falls on the audience as well as the cast (where I was sat, in an icy draft, it felt cold enough to really snow).
That story outline is more or less the same for the film and this adaptation, but beyond that there are significant differences. Whole chunks of plot have been removed and what is left simplified and shuffled around a bit. We never see Phil save Bob's life and use this to persuade him to form the act. The whole farce of the men performing the girls' act to allow them time to escape from an irate landlord and the police has gone—Phil and Judy have a brief conversation where he agrees to get Bob to go to Vermont—although the boys do their version of "Sisters" much later in act 2, with less dramatic justification. Phil and Judy's phoney engagement to get Bob and Betty together has also gone.
With all of those cuts, the stage show is still longer than the film; all of this story has largely been replaced by extra songs and dance numbers. Hotel receptionist Martha (Sally Ann Triplett), a great comic part in the film, has become an ex-singer herself desperate to be part of the show, so she has a big solo number "Let Me Sing and I'm Happy" in act 1 and she leads Betty and Judy in "Falling Out of Love Can Be Fun" in act 2. The General's granddaughter Susan (played not by a child but by 19-year-old Ella Kemp) is also a frustrated performer and sings a reprise of the first of those. "I Love A Piano" is inserted at the start of act 2, led by Phil and Judy but becoming a big tap production number. And there are more extra numbers, all by Berlin but from different sources.
If you're coming to see the show for the singing and dancing, there's plenty for you, and it's done very well, with some big, spectacular production numbers with great harmony singing contrasting with lovely solos. If you're expecting the story highlights and humour from the film, you'll get some of these but you may be disappointed.
The main thing lacking for me is any real emotional heart to the show, especially surrounding the General, whose part has become much less significant. When he receives the rejection letter from the army, which provides the reason for the rest of the story, he isn't given the space to show how much he cares about this, there is no scene of keeping him away from the TV while Bob asks his former comrades for help on air and the final scene (spoiler I suppose), when he walks in to find all of his men turning out for him, is just him and Martha on stage addressing the audience so doesn't come close to the moment in the film that still brings a tear to my eye every time.
Burton has been with the show since Leicester and is very comfortable in the role of Phil, the character the audience probably warms to the most. Jeans's Bob is serious to the point of being quite dull, although he comes to life when he is singing. Betty and Judy are their female equivalents—the former serious, the latter more frivolous and fun-loving—and Daley and Langham fulfil those roles well.
As a family festival show, it's full of colour, music, dance and romance and ends with snow and a Christmas tree, which is just what many people will be looking for at this time of year, especially if they are making their first return to theatre after lockdown. On the other hand, the plot has become rather thin with some well-loved moments reduced or removed—more, I think, than strictly necessary to transfer the 1954 film to stage—and less to make an audience really care about these characters.
Reviewer: David Chadderton