White
Andy Manley
Catherine Wheels Theatre Company
HOME Manchester
–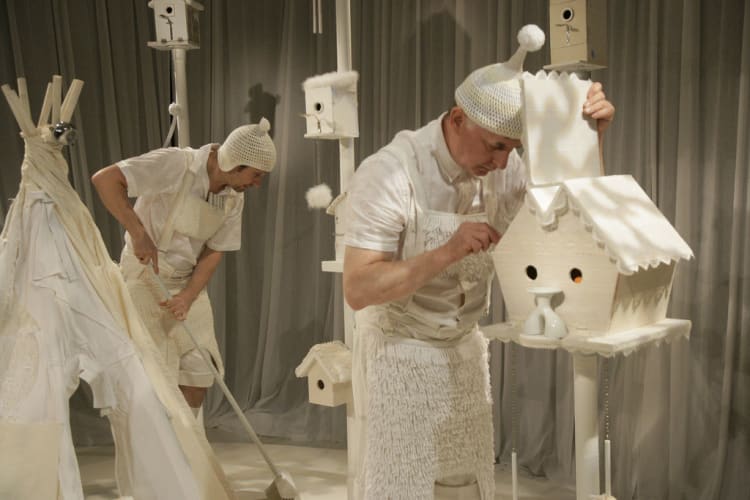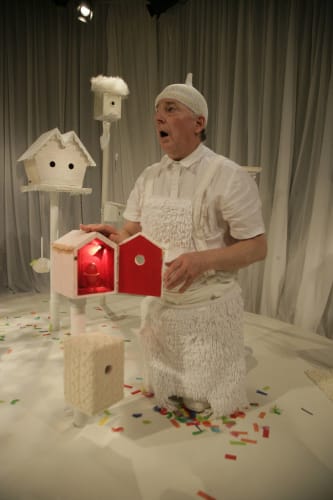 Scottish company Catherine Wheels has brought its much-acclaimed White to HOME for Christmas: a curious combination of Samuel Beckett and Teletubbies for the under-5s.
Cotton (Callum Douglas) and Wrinkle (Sean Hay) occupy a world that is entirely white in designer Shona Reppe's set that envelops the audience—children on white beanbags; adults on white benches upholstered with white Ikea bathmats—as well as the performers. HOME has removed its usual raked seating in Theatre 2 and installed a (white) curtained-off shared space that seems only a little larger than the usual stage area.
The duo have a fixed routine that begins with waking from their white wigwam, breakfasting on milk and what look like prawn crackers and then cleaning out the bird houses—all white, of course—which are on poles of various heights all around them. If anything is found that isn't white, it is treated with contempt and consigned to the bin in the corner. Then the event they have been looking forward to at last comes: white eggs fall from the sky, which they put in egg cups, cover with woolly hats and place lovingly in their own little bird houses.
But then another egg falls unexpectedly—and it isn't white. Wrinkle forces Cotton to cast it away into the bin, but Cotton sneaks back in the night and retrieves it—he loves it as much as the other eggs. However, once colour has been introduced into their world, it seems there is no going back.
There are lots of messages and morals that could be read into this 35-minute piece, but it feels like it would cheapen it to put these into words. It takes the repetition of routine in most modern TV for young children and combines it with old-fashioned physical comedy into a perfectly conceived and tightly directed (by Gill Robertson) little show. A nice touch is a slow 'cool-down' at the end, where the audience isn't ejected as soon as the show finishes but instead the performers interact with them, chatting to them and encouraging them to take some of the coloured confetti home with them.
Performances are morning and early afternoon, with a late afternoon one as well at weekend, but it is only around for a week and a half. It's a perfect show to take the little ones to, but if you're in town without children and believe it isn't fair that the kids get some of the best theatre in Manchester this Christmas, it's well worth popping in for an hour.
Reviewer: David Chadderton