White Rabbit, Red Rabbit
Nassim Soleimanpour
Everyman Theatre, Cheltenham
Everyman Theatre, Cheltenham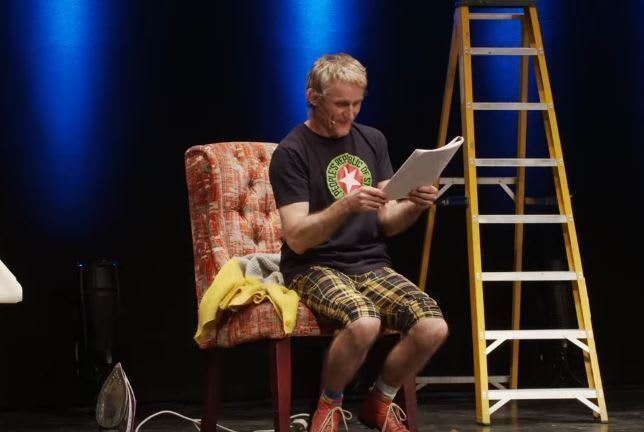 An author, an audience and an actor —or in this case a clown—Nassim Soleimanpour's experimental play, widely staged and relayed across the UK to mark the anniversary of the COVID-related closure of theatres, is as much about the nature of theatre as anything else.
The author makes it clear he is writing on a particular day in April 2010, in Iran, which he is forbidden to leave, and that therefore he can make his words travel across time, across distance. "You," he tells his listeners, "are my future," and bids them send him e-mails, to which he will reply "if I am still alive."
The piece reminded me at one point of Ionesco, as it made audience members act out an absurdist episode about a rabbit shamed for uncovering its ears. "I've made people do things," Soleimanpour observes. "What are the limits of your obedience?"
The most gripping part of the play is when he relates an experiment by his uncle, with a red-marked rabbit and white ones, the latter turning on the former when it alone retrieves a carrot. This behaviour was then learnt and repeated even when the rabbits are replaced and the carrot removed. Thus, the author writes, our past conditions our future.
Soleimanpour demands that that there is no rehearsal, no director and that the actor reads the piece for the first time during performance. Even as experimental theatre, it is not, however, a particularly good piece, with some tedious passages, onto which the author frequently inscribes the f-word, like "I'm a grown-up" tattoos.
They may no doubt have given some secret pleasure to those 12+-year-olds, for whom the play was advertised as suitable, and whose parents brought them because of the casting of Alan Digweed.
Digweed is better known locally as Tweedy for his performances as a circus clown and in panto, and his best moments were improvised mime as various animals—rolled-up trousers revealing impressively realistic ostrich legs.
Although he has appeared in Waiting for Godot, he is nevertheless no actor, occasionally stumbling over words or turning the wrong page. "That's not in the script, that's me," he frequently remarks as he jumps around nervously, like a marionette with a twitchy handler.
Ultimately, this didn't really matter. What counted was Digweed's utter lack of vanity in the performance, a sense of frailty that did unite audience and writer, which was after all what the latter aimed at.
Reviewer: Colin Davison