White Rabbit Red Rabbit
Nassim Soleimanpour
Aurora Nova
Assembly George Square Studios
–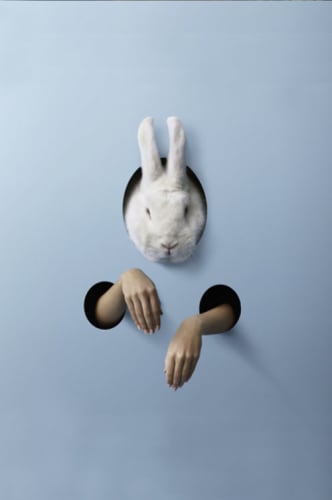 It's difficult to discuss, much less to critique Nassim Soleimanpour's, White Rabbit Red Rabbit, the theatrical experiment which relies entirely upon both artistic, and to a lesser extent audience, ignorance of the play's content.
The script of the world-famous play that Iranian writer Soleimanpour has created is given to an actor shortly before going onstage; the actor must then perform it blind in its entirety.
Enlisting the help of the audience as required and doing their best to do justice to the material, the crowd and to their dignity; afterwards, they should theoretically never perform the play again, making every performance an entirely unique entitly.
In my case, it was Fringe comedian Desiree Burch, who coped well with the material and added a cheerful, jocular whimsy to the piece that other performers might not have.
It's a fantastic concept for a play and it's a unique experience, which I shant spoil. However the effect, the meaning and what a theatregoer will take from the experience depends upon the actor who is taking the plunge with the piece that night.
The various concepts at play within the piece are at times fascinating, thought-provoking and endearing, and the uniqueness of the experience makes it hard not to recommend.
It's experimental theatre at its more intriguing and mysterious, but with the caveats that some of the material will bore or confuse many of the audience who expect a more definitive and natural theatrical performance.
Reviewer: Graeme Strachan