White Witch
Barry Reckord
Thee Black Swan
Bloomsbury Theatre
–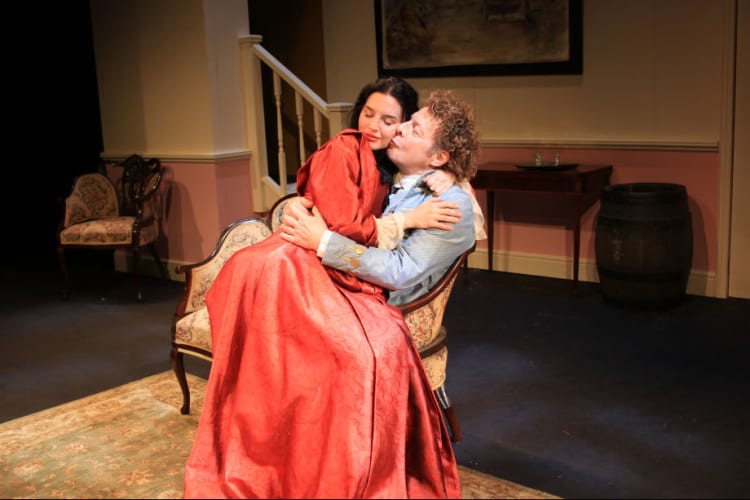 England loved slavery. It loved slavery so much, it dedicated itself to owning and trading slaves for about 300 years. Everywhere it went it promoted slavery and celebrated it across English cities in glorious statues you can still see of the men who bred, stole and sold the slaves that became the foundation stones of British industry.
Such love makes it all the more surprising that theatre, the chronicler of the nation, has taken such a slight interest in this grand period of history. You will find more plays about P G Woodhouse's comical pair Jeeves and Wooster than you will find on the issue of slavery.
But a few plays got through this curious English amnesia. Barry Reckord's 1975 play White Witch set in pre-abolitionist Jamaica takes a comedic knockabout look at the antics of Jamaican planter Simon Palmer (Robert Maskell) returning from England with his new wife Annie (Georgina Baillie). She is no ordinary planter's wife. They would be expected to know their place and breed lots of little planter children.
Annie is very different. As a child, she was left at a French school during the French revolution and is rather taken with the revolutionary poetry of William Blake. Importantly, Barry Reckord imbues her with the confident optimism of the period in which he wrote the play. Annie may be a character from the early years of the 19th century, but her spirit is very much that of second-wave feminism.
Thus she speaks about her character's period in the spirit of 1960s liberation politics. Sex, she claims, is a natural activity to be enjoyed. It's "also about love, not just breeding," she tells the servants after quoting Blake's poem "Garden of Love" with its condemnation of "priests in black gowns walking their rounds binding with briar's my joys and desires."
Not to be obstructed in that pleasure by something as silly as marriage, she tells her husband, "you lay with me but never pleasure me." Instead, she finds her pleasure from sexual encounters with two slaves, something regarded as normal for planters such as Simon but not their wives. Asked by one of the servants why she bothered to get married, she replies, "my hole is my fortune," and later comments that "murdering husbands leaves you with a flat belly and a fortune."
Her husband Simon doesn't quite see things in the same way. He claims, "most women are dead in the head," and worries to the doctor about Annie moving about during sex. The doctor reckons cutting out her clitoris will solve that problem. His daily life is otherwise spent in drinking wine, shouting at the servants, playing the piano with the doctor and ordering any slave that irritates him to be killed.
As you might imagine, Annie objects to the killing of slaves and even praises a pamphlet that suggests planters should be assassinated. When someone asks if she agrees with it, she replies that "every little bit helps." And as the news of slave rebellions reach the plantation, she does her bit to hurry the old world to its grave.
Thee Black Swan theatre company gives us a lively performance that quickly has the audience laughing. Robert Maskell seems constantly on the move as the exasperated Simon Palmer trying to understand and stop the new world emerging. It's a new world some of the slave characters welcome, while others cling to the precarious habits they have learned under planter control.
The remarkable story of the slaves making that new world will be told elsewhere as would the story of how England continued to rape and pillage its way across the world to the delight of its rulers.
Reviewer: Keith Mckenna