The White Crow: Eichmann in Jerusalem
Donald Freed
York Theatre Royal Studio
(2008)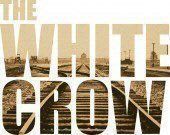 Adolph Eichmann's role in the second world war was dedicated to the facilitation and timetabling of the deportation of Jews to ghettos and concentration camps across Nazi occupied Eastern Europe. After the war Eichmann escaped to Argentina where he lived under a false identity for ten years. He was eventually unearthed by the Israeli Mossad in 1960, and deported to Jerusalem where he was tried for war crimes and hanged on 11th May, 1962.
The White Crow uses this historical backdrop as a starting point for a fictitious encounter between the imprisoned Eichmann and a female Israeli psychologist, Dr Baum. Baum's relentless interrogations provide the audience with a detailed account of the horrors of 'The Final Solution' and an acute insight into Eichmann's state of mind.
The first half of this production is staged (by Designer Lydia Denno) in an entirely enclosed glass walled interrogation room, which echoes the fact that Eichmann was tried inside a bullet proof glass booth. The set effectively magnifies Eichmann's confinement and also forces the audience to examine the events on stage with a macabre voyeurism, which is fitting for the subject matter of this intense and compelling play.
The restrictions of this claustrophobic set are of no hindrance to the actors. Robert Pickavance is expertly cast as Eichmann and he skilfully balances the characters wild oscillations between degraded and vulnerable prisoner and defiant Nazi idealist. Sonia Petrovna's Dr. Baum is all the more effective for her early emotional self-restraint. And although some of her pacing does impede subtler rhythms within the dialogue, Petrovna storms through the second half with a forcefulness that leaves Eichmann on his knees.
It is in this supercharged second half that the audience are given access to the inside of the interrogation room. The walls of the set of the first act are removed and the remaining interior expanded to use the whole of the studio space.
Director Damian Cruden effectively incorporates soundscapes throughout, and Craig Vear's haunting yet understated sound design uses snatches of spoken German and the distant rumble of trains to eerily underline the horrors of the past.
The White Crow delves beyond Eichmann's authentic line of defence (that he was only following orders, a mere cog in the well oiled Nazi machine) and into the psyche of a man who has been remembered by history as the 'architect of the holocaust.' Freed's play raises some critical questions regarding the handling of the perpetrators of crimes against humanity, while bringing into question the supposed futility of resisting institutionalised ideologies. More importantly it challenges us to question our own moral mettle.
Reviewer: Hannah Davies