Whiter Than Show
Mike Kenny
Graeae Theatre Company
Courtyard Theatre, West Yorkshire Playhouse, Leeds, and touring
(2009)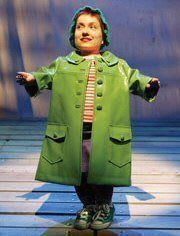 Graeae director Jenny Sealey and playwright Mike Kenny are on a mission to create accessible theatre. Graeae is 'a world leader in developing and promoting disabled-led theatre for a diverse audience.' Mike Kenny is included in the Independent on Sunday Top Ten Living Playwrights. So expect something distinctive and a little special.
But first the story. The Frantz family are traveling show people, story tellers who perform their stories and ignore boundaries and borders. Three of them are, as daughter Frieda (Kiruna Stamell) announces, ' short. Have a good look. You have my permission. OK? Now get over it. This is our story.'
The youngest, Little Otto (Milton Lopes), is growing at a hell of a lick and his mother (Sarah Bennett) must keep on letting down his trousers, lest father Otto (Nick Read) discovers he's sired an 'ordinary' son. And the Frantz production of Snow White is already three dwarfs down (for truly sinister reasons) and travelling through a war zone. 'Freaks' are likely to be rounded up and taken to a camp.
The Family Sign Language Interpreter (Jude Mahon) and Stage Manager Sam (Tom Thomasson) complete the troupe. And they tangle with Eirwen (Esther McAuley) 'an escaped clone,' plus a mad scientist and a bureaucrat soldier. There is a fair degree of doubling, not counting the cut-out dwarves. Eirwen is a perfected human, made from cells taken from her mother - the mad scientist. Plenty of story to go on, then.
The set is construction kit metal which breaks into four parts, on wheels, so we get house and a raked stage upon which the family perform. To the back a wrinkled draped sheet, beautifully lit by Richard G Jones. The show looks good!
Kiruna Stamell as teenage Frieda, the would-be Snow White, narrates and bounds through the play like a tearaway puppy. She also exudes emotion and has fantastic stage presence. But this is an ensemble production which never flags; the cast never fluffs or falters.
The story and production are strong and it seems that Sealey and Kenny are very close to their Grail of total accessibility. You delve into this play and find new stuff. Thanks to Kenny's script - intimations of intense pain and tragedy. But it's also obvious that young kids would love the physicality of it and follow the simple story line - thanks to Sealy's direction.
So take your toddlers and great grandparents, they'll all find something to laugh at and think about, and, of course, the show is accessible to a disabled audience members. But if this is genre theatre, it's a new and exciting genre!
It is worth noting that the production follows the increasingly common practice of selling the published script as a programme. In this case we are given the script of the present show, plus another Mike Kenny play, Diary of an Action Man. Time Out Best Children's Play 2003, this is an astonishing piece of work which makes visible a production through script alone. And, as with Whiter Than Snow, it's a play that works very well at different levels, appealing to old and young alike. There is something almost skeletal and mechanical about these plays. The scripts read like technical drawings and are never poetic, but rarely are words made to work so hard at the service of story and audience. Taken in conjunction with a Graeae production, the result is unforgettable.
Reviewer: Ray Brown