White Christmas
Music and lyrics by Irving Berlin, book by David Ives and Paul Blake
The Lowry, Salford
(2009)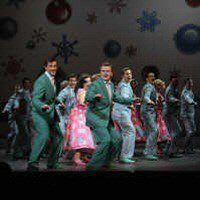 After a short run at Plymouth's Theatre Royal, this all-star stage adaptation of Irving Berlin's classic film musical White Christmas has taken up residence at The Lowry for the Christmas season.
The show opens in 1944 when Bob Wallace and Phil Davis are entertaining their fellow troops and their much-loved, fatherly commanding officer General Henry Waverly. Jump forward ten years, and Wallace and Davis are nationally-known entertainers and regulars on the Ed Sullivan Show. They are asked to see singing duo the Haynes sisters with a view to using them in their show, but when womanising Phil hooks up with blonde Judy Haynes, they resolve to get Bob and Betty Haynes together, even though they profess to hate one another.
The plot involves diverting Bob from sunny Florida at Christmas to snowy Vermont without telling him. Vermont turns out to be sunnier than the disappointed holidaymakers expect, but by coincidence, the hotel turns out to be run by their old commanding officer General Waverly. The hotel is struggling to stay afloat, so Bob arranges to get some of his showbiz colleagues and old army pals down to help out. Of course there are some misunderstandings that threaten both the relationships and the show, but will they be resolved by curtain up? And will there be a white Christmas after all? You many be able to guess the answers to those questions even if you haven't seen the film.
The plot is completely predictable and formulaic with lots of wildly unlikely coincidences and romantic comedy clichés, but for all that it is great fun and is brought to life by some classic Irving Berlin songs: 'Happy Holiday', 'Sisters', 'Let Yourself Go', 'I Love A Piano', 'Blue Skies' and many more, including, of course, the title song, which was originally part of the film musical Holiday Inn.
Walter Bobbie's production, recreated for the UK stage by David Morgan, is slick and polished with some spectacular and beautiful sets designed by Anna Louizos lit beautifully by Ken Billington. Musical director Robert Scott conducts a seventeen-piece pit band of mostly brass and woodwind to give a really big, jazzy sound to go with some authentic-sounding 1950s harmony singing.
As Bob Wallace, played in the film by Bing Crosby, Aled Jones is most comfortable while he is singing (when just a touch of his Welsh accent comes through) which he does very well but also acquits himself perfectly well with the acting parts. In the Danny Kaye role, former Royal Ballet principal dancer Adam Cooper is a real all-rounder with a good singing voice and great stage charisma, plus of course he dances everyone else off the stage. In the unenviable position of Cooper's dance partner, Suzanne Shaw doesn't do a bad job of keeping up and is good in the part of Judy. As her more tempestuous sister Betty, Rachel Stanley is also very good.
Louise Plowright stands out from a pretty decent cast with a very strong performance in the role of hotel manager and former Ethel Merman-style singer Mertha 'The Foghorn' Watson. Roy Dotrice, now 86 and still going strong, gives a lovely, tender performance as General Waverly, and at the other end of the age scale, 11-year-old Emily Fitton gives a great performance as his granddaughter Susan (played at other performances by Kendal Boardman and Anna Bray). There are also some very nice cameos from the ensemble, including David Lucas as the camp, panicky show director and Phil Cole as slow-moving stage manager of the improvised barn theatre Ezekiel and 'Mr Snoring Man' on the train.
When it does snow (sorry if I've spoiled the ending there), the effect is very impressive and a clever trick to get the audience on its feet for the applause at the end. While there is nothing innovative or thought-provoking about this show, it is great fun and an ideal piece of entertainment for the Christmas period in a very high quality production that has had more thought, talent and money put into it than many (arguably most) regional tours of West End musicals.
To 9th January, 2010
Reviewer: David Chadderton