Dick Whittington
Eric Potts
First Family Entertainment
New Wimbledon Theatre
(2011)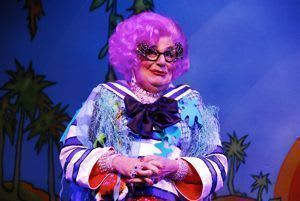 Back in the 1990s, pantomimes were awash with Australian soap stars and now, two decades on, one of Australia's most successful exports Dame Edna Everage takes to the stage in Dick Whittington, her first ever pantomime.
As the Saviour of London, Dame of the British Empire Miss Everage descends from the Gods in a giant wombat before declaring "Hello Possums" to the crowd, some of whom eagerly grasp her freshly-tossed gladioli. First Family Entertainment has been serving up superstars at the SW19 venue for the past few years and this season's offering demonstrates that the star-vehicle-pantomime is still a lucrative venture, with top ticket prices reaching a whopping £44.
Aside from some rather long-winded moments where Dick Whittington becomes the Dame Edna Show, the 77-year-old housewife is refreshingly good. Bemused at the British tradition that is pantomime, she even uses the word 'genre' to describe the art form and makes no bones about not understanding the mad-cap entertainment she has become a part of. Her reactions to the rest of the cast whilst singing, mocking their vocal warbling and over enthusiastic dance moves, are comedy gold and Everage is even afforded some musical numbers of her own in Act Two which she endearingly sings surrounded by her little Edna-ettes.
Sharing the stage with the Dame from Down Under is Britain's very own Eric Potts as buxom beauty Sarah the Cook. In an array of garish outfits contrasting Everage's sequins and spangles, Potts works hard onstage, especially during a rendition of the 12 Days of Christmas, but his patter with some naughty sausages doesn't sizzle as much as it could and his script, although full of pantomimes' obligatory set pieces, is severely lacking in jokes relating to the title character's name.
As Sarah the Cook's son Idle Jack, Kev Orkian is anything but idle, buzzing about the stage and delivering his knowingly poor gags with great energy and enthusiasm. The real measure of a good Comic is how they fare in the Songsheet and Orkian excels with his version of Old MacDonald complete with an exotic array of animals.
In this Dick Whittington, Idle Jack has his very own pet—a turtle named Terry whose function in the second act is to serve as a guide for the show's spectacular 3D sequence by Accolade Productions. Sharks, crabs, octopuses and all of Nemo's fishy friends envelop the audience as they embark on an underwater adventure. Boasting vibrant colours and rich and detailed rendering, the superior quality of Accolade Productions's animation demonstrates that the days of 3D in pantomime resembling a bad 1980s computer game are long gone.
In the roles of Dick and Alice, Sam Attwater and Anna Williamson are given more songs to sing than dialogue to recite, which is probably for the best, with Anthony Houghton making a delightful Alderman Fitzwarren. A cape-swishing Dick Dastardly-esque King Rat from Richard Calkin and a break dancing Captain Titchworth courtesy of Ben Goffe finish the line up and all are accompanied by Terry Parsons's Ye Olde London set complete with ringing bells and plenty of glitter.
Next year's pantomime has already been announced as Snow White and the Seven Dwarfs which begs the question: how will First Family Entertainment top this year's star? Victoria Beckham as the Wicked Queen? Arnold Schwarzenegger as her henchman? Stranger things have happened in Pantoland. If only there was a magic mirror to reveal what the New Wimbledon Theatre has in store...
'Dick Whittington' plays at the New Wimbledon Theatre until 15th January 2011
Reviewer: Simon Sladen