Who is Noskov?
George Noskov
Theatro Technis
–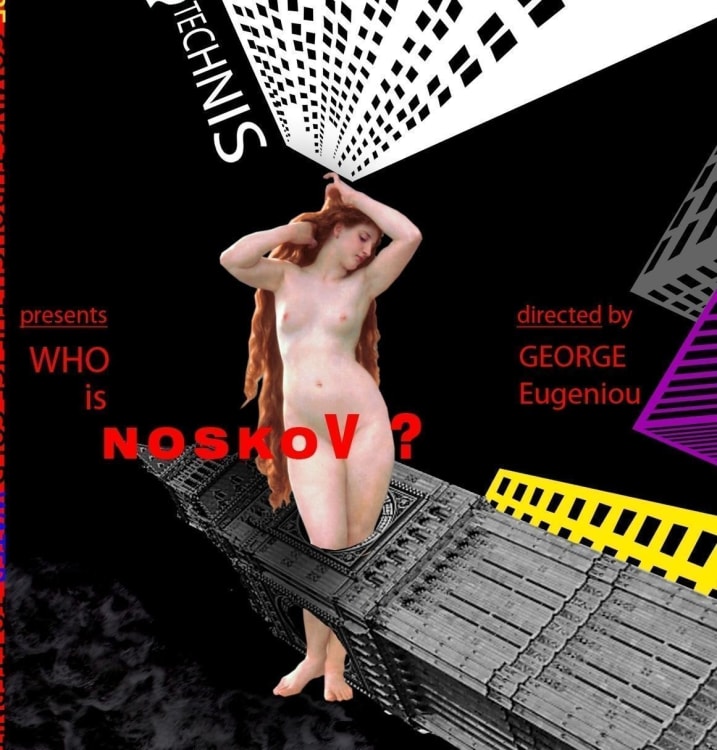 George Noskov was a Russian poet and playwright who moved to London in 1991 and lived there until he died aged only 47 in 2019. Theatro Technis is presenting this season of five of his plays, directed by its founder and eminence gris, the stalwart George Eugeniou, as a tribute to Noskov and in his memory. They can be seen in various couplings on different nights or as all five performed together on Saturday.
I caught only two: Turkey and The Meeting. They were topped and tailed by readings of some of his non-theatrical writing, a piece in which a girl describes her feelings for him and some philosophical musing, delivered to a dark house and partly accompanied by projections of some portraits of him.
Turkey presents an argumentative couple of drunks. He is knocking back the vodka and she is very angry. She takes off her bright red coat, he stamps on it, grabs her hat and farts into it before placing it on her head. Liquor and anger and heavy accents make the dialogue difficult to decipher but it seems they've come, hungry and desperate, to beg help from their landlord who throws down food from his window.
I am guessing it is called Turkey because it is Christmas and that is what is missing. It gets passionate performances from Eimantas Minkelis and Belen Diaz, who pull all the stops, but I understood so little of what was said that I can't pretend to know what it was about beyond an angry despair at their situation. I think I caught the line "I can't afford to hope, my life is insecure" and thought perhaps this play was Noskov's reaction to life privations of many people when Russia moved from a Communist regime to a competitive capitalist economy; I gather it is in fact a dramatisation of an incident in his own life in London.
The Meeting presents a writer (Eimantas Minkelis), presumably Noskov, at his typewriter. As he creates his characters they appear and begin to take things over.
First to appear is Anton Chekhov (Sergey Lytvynenko) in smart tailcoat and topper, pearl pin in his cravat and neatly trimmed moustache, then Fyodor Dostoyevsky (Otto Kosk) in bright red waistcoat and fur hat with ear flaps but again heavily accented English makes them difficult to understand, not helped by copying that English cliché error of shouting to improve communication.
Here I must confess, that some people sitting in front of me, themselves not I think native English speakers, were finding plenty to laugh at, their ears better attuned to understanding these particular accents. It was something of a relief when the writers disappeared and Noskov found himself accosted by first one then two cats. Oleg Kalninsh as the male was not only sleekly feline but much more clearly spoken.
In velvet trousers adding to a personal exoticism and a pair of black mittens turning his hands into paws it was a lovely characterisation and Maria Tukhas as a female pussy with hair bunched up like ears and a striking strut put up strong competition to be taken on as Noskov's pet, even if her delivery was not so easy to understand. It was a nice touch to cap this surreal situation with the arrival of Cats composer Andrew Lloyd Webber (Cameron MacDowall, playing the young man before his elevation to the peerage).
There is a lot of good work on display here, but these are text-based plays rather than physical theatre. Clear speech is a primary requirement in their delivery, whatever the accent, especially when the playing is as fast as with these performers.
Reviewer: Howard Loxton