Who Killed My Father
Adapted by Ivo van Hove from the book by Édouard Louis
Internationaal Theater Amsterdam in association with Young Vic
Young Vic
–

Listing details and ticket info...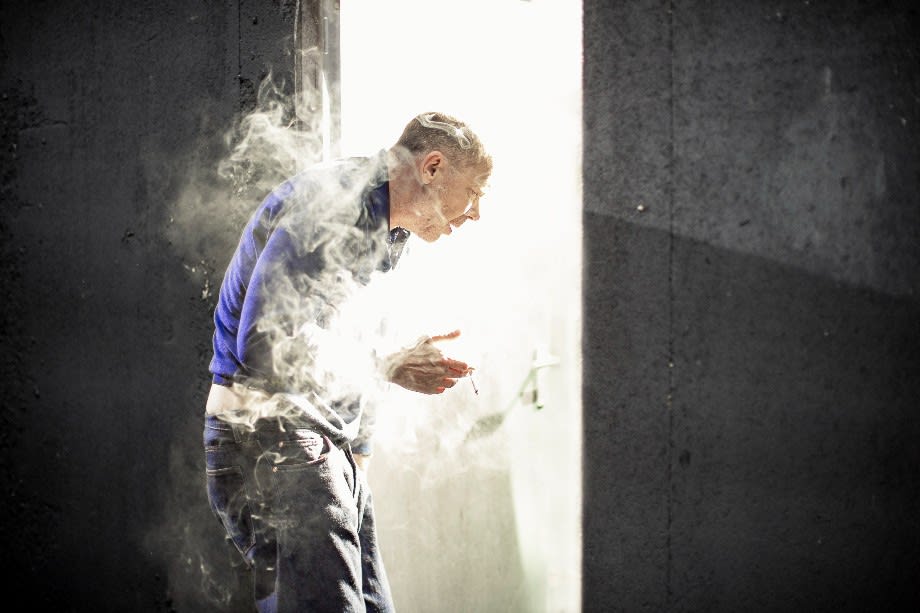 Édouard Louis knows who killed his father. They will be named towards the end of the play, but first, there is a need to express the anger and grief he felt over the destructive impact the world had on the body and spirit of his father and their relationship.
Even before the actor Hans Kesting, who plays Louis, begins the 90-minute monologue in English, we can guess from the look of the set that this autobiographical account will be grim.
It could easily be a grey prison cell, the bare walls showing the hollows where his father had furiously punched them to avoid hitting any of his family. He wasn't going to repeat the violence he suffered from his father. There is a single bed with a mess of covers. Beside it stands an oxygen tank he might use when the difficulty of breathing becomes too great. On the floor sits an ancient television, the only other item in the room. On the left wall are two narrow windows letting in some light, enough to remind him there is another world beyond the desperate poverty of his own.
Hans Kesting speaks mostly in the voice of Louis directly to his father. Occasionally, he will become the father wheezing, speaking painfully, his body sometimes contorting, perhaps slowly moving to the one door to the room where he will for a time recall stuff through a haze of cigarette smoke.
Particularly painful for the son are memories of a childhood hedged in by attitudes to masculinity. There was the time as a child when he had prepared a performance with others in which he was the lead singer and dancer wanting so much for his dad to like it only to have his father walk out. On another occasion, Louis provoked a family rift in which his brother brutally attacked his father. It had been prompted by his mother earlier that day asking him, "why do you always go around acting like a girl? Everyone in the village says you're a faggot."
His father's attitude to masculinity always puzzled him, especially when his mum told him his dad used to love dancing, something he denied. Then there was the discovery of a picture of his dad dressed as a woman.
There were happier memories, including one of being driven along a beach as if the car was riding the waves, of being defended by his dad against false accusations of theft by police and in particular the unexpected Xmas gift of the film Titanic accompanied by a collectors' edition of the book about it. That present was especially a surprise given his Dad's earlier anger at his son's request for the film, which he saw as smacking of femininity.
Running through the stories of his father is a life hemmed in by poverty, by factory labour which includes a workplace accident that leaves his spine damaged and his father in bed for months. But still, to survive, to afford the medication which the government had removed from health provision, he is forced to work in manual jobs that damaged him further.
Louis names the culprits as "Macron, Hollande... Sarkozy, Chirac. The history of your suffering bears these names."
As he grew older, both father and son changed. The son became more politically left-wing. He explains that, "for the ruling class in general, politics is a question of aesthetics... for us, it was life or death." The fact that his father can hardly move or breathe without the help of a machine is due to the life the politicians had consigned him to.
In the final words of the show, Louis recalls his visit to his father a month before, when his father asks, "just before I left, Are you still involved in politics?… Yes, I told you, more and more involved. You let three or four seconds go by. Then you said, you're right. You're right. What we need is a revolution."
Reviewer: Keith Mckenna