Who Killed Agatha Christie?
Tudor Gates
Swansea Grand Theatre
(2011)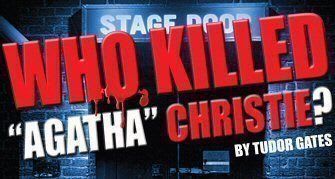 The Grand's Summer Repertory Season is always eagerly awaited, and this year's opener has proved to be a gripping two-hander which ensnared the audience on the first night from the word go: Stephen Rashbrook (as wronged husband John Terry) and Neil Roberts (as gay theatre critic Arthur - aka "Agatha" - Christie) work beautifully together in this intriguing drama from the prolific pen of Tudor Gates, perhaps best known for writing movies for Hammer Films and also for his scripts for TV shows such as The Sweeney and The Avengers.
Thi is a brave choice as an opener for the season, inasmuch as only two actors are involved and the unseen wife (who plays a pivotal role in the plot) is heard only as a voice on a reel-to-reel tape recorder - the action is set firmly in 1978, which makes it a period piece of sorts, and a very effective one at that.
As is always the case with Ian Dickens' tried and trusted productions, the action is confined to a single set - in this case the interior of an apartment in London's Earl's Court - and this lends weight to the claustrophobic atmosphere that gradually descends as the plot thickens. Director Andrew Lynford clearly understands the idea of a "slow burn" and his low-key approach allows for the tension, twists and turns to develop naturally instead of being overly sensational - although, having said that, there is scope for both actors to give performances that are more than a little heightened: no bad thing given the larger-than-life nature of the plot.
Theatre critics inevitably get a raw deal from playwrights and screenwriters - as anyone who has seen the Vincent Price movie Theatre of Blood will know - and it is quite refreshing here to see the Christie character portrayed in a sympathetic light while his tormentor is played to the hilt with an aggressive streak of cruelty and cynicism.
Over the years, many television-based writers (including Brian Clemens, Dennis Spooner and other veterans of action/adventure series) have tried their hands at plays, with what have often been mixed results: the lack of a formulaic hero character or investigating sleuth has often weakened their work, but in this case the chemistry works well, and playwright Gates has smartly dealt with the qualities of his respective characters in a measured and skilful manner.
The Grand's Summer Repertory Season continues this week with Marc Camoletti's comedy "Changing Rooms" which runs from July 26 to July 30.
Reviewer: Graham Williams