Why the Lion Danced
Carey English
Yellow Earth Theatre
Tara Arts Studio
–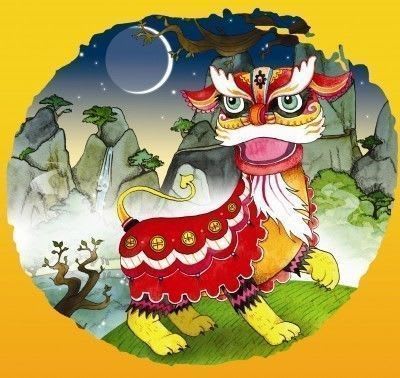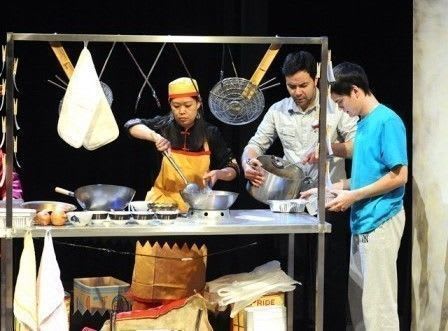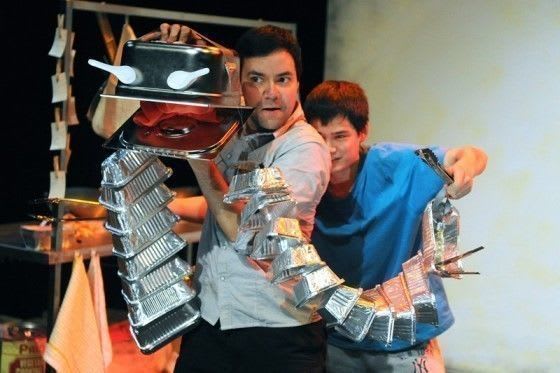 Revived for a Chinese New Year tour, this delightful entertainment tells the story behind the lion dance that forms part of many Chinese festivals, especially at New Year when the lion will call at homes and shops for the traditional "plucking the greens" (採青 or cai ching) when it is offered green vegetables such as lettuce. In Chinese the word for lettuce (cai) has the same sound as the word for good fortune.
The lion dance has its roots in the tale of a village that was harassed by a monster that ate children. The villagers ask the animals of the Chinese zodiac to help them. They try the Fox and then the Tiger, but it is the Lion who drives the monster away and to make sure it doesn't come back they make their own lion and perform the lion dance to convince the monster that Lion is still with them.
The story is told by a family who run a Chinese take-away. We meet them on New Year's Eve, when they are sweeping and scrubbing to make sure that everything is especially clean because the cleaner things are the better they will be able to soak up the good luck that comes with New Year.
There is Tom (Oliver Biles) who is rapidly growing up, though Dad Wen (Jamie Zubairi) still treats him like a little boy. He makes the audience his friends, though grandma is worried about having so many people in their kitchen—it is bound to breach the Health and Safety regulations.
Grandma Nana (Tina Chiang) is rumoured to be a Kung Fu black belt. It is Auntie (Zanghui Qiu, multi-instrument musician as well as actress) who starts things off playing a tune on the Pipa, the 2000-year-old Chinese lute, but soon everyone else is making music too as brooms and brushes, a chopping knife and kitchen utensils come into action in a Stomp-like number while Dad keeps coming in with quick-fire take-away orders.
As well as meeting this lovely family, the audience picks up quite a lot about Chinese New Year traditions, from paper cut-out decorations to Chun Lain, Spring Couplets, like the ones Tom's parents composed and wrote in golden calligraphy on red paper when they were newly married. Sadly Mum isn't there. She's in Hong Kong looking after her sick mother.
To tell the Lion tale, director Kumiko Mendl and choreographer Tom Wu make use of dance and mime techniques from Beijing style Chinese Opera. Dad, brandishing a feather duster tail, becomes a nimbly prancing Fox, Nana a mop wielding kung-fu Tiger (rumours were right) and Auntie the fierce Lion facing a monster cleverly contrived from kitchen equipment that grow larger and larger.
A clever shadow puppet sequence tells of the man and his son who travel to Beijing to ask the Lion to come back to the village but when he won't they make their own Lion, seen first in puppet form and then a full scale spirited Lion Dance.
Why the Lion Danced lasts just under an hour. It is recommended for anyone over 5 and is enormous fun. Its daytime performances are aimed at juvenile audiences and the company provides an online teachers' resource pack for schools. Grown-ups will enjoy it just as much and weekend shows make it possible for them to get there.
Why the Lion Danced also plays at Lakeside Arts Centre, Nottingham (27 January), The Theatre Chipping Norton (1-2 February), Rich Mix, Bethnal Green (3 Feb), Harlow Playhouse (9 February), The Albany, Deptford (10 February), New Wolsey Studio, Ipswich (16 February), The Lowry, Salford Quays (17 February), Polka Theatre, Wimbledon (20 February - 2 March), Watermans Centre, Brentford (3 March) and Unity theatre, Liverpool (9 March 2013).
Reviewer: Howard Loxton