Wicked
Music and lyrics by Stephen Schwartz, book by Winnie Holzman
Apollo Victoria
From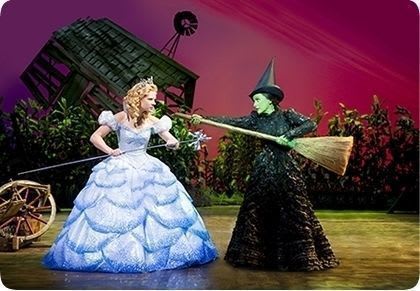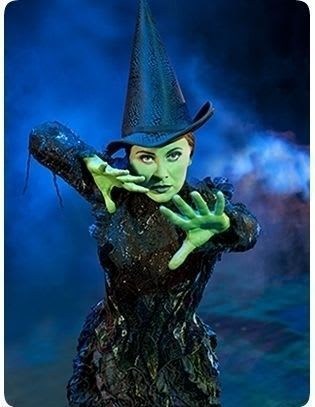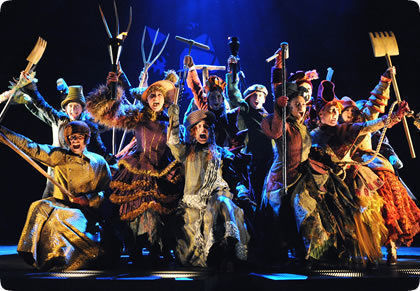 Playing on Broadway since 2003 and in London since 2006, this long-running musical is based on Gregory Maguire's novel Wicked which takes a fresh look at the characters of the Good Witch Glinda and the Wicked Witch of the West from Frank L Baum's classic The Wonderful Wizard of Oz.
In the adaptation, Winnie Holzman has made alterations that ease its staging but it retains the ideas of personal integrity and social responsibility that are present in both those books.
Being a very moral tale certainly doesn't stop it being fun and it is a production mounted with flair. With Eugene Lee's clockwork-inspired sets extending out into the auditorium, complete with fire breathing dragon atop the proscenium, Susan Hilferty's gorgeously lavish costumes inspired by a mixture of Edwardian and medieval, each scene in a carefully graded palette, and dramatically lit by Kenneth Posner it looks fantastic.
The show begins with the people of Oz celebrating the death of the Wicked Witch of the West, the green-skinned Elphaba. The Good Witch Glinda (formerly Galinda) admits she used to be her friend, looking back and telling Elphaba's story, from her birth through their relationship at college, switching from hate to friendship, jealousy over ability and the affections of Prince Fiyero to Dorothy throwing that final bucket of water—and then beyond.
Louise Dearman and Gina Beck are well matched as Glinda and Elphaba. Dearman at first presents a selfish, full-of-herself Barbie doll; later she makes us like her, though she's never as clever or as kind as Elphaba. Beck has the whole audience on her side as the victimised outsider; if bad things happen it's not really her fault and you never quite believe she could ever be thought wicked—indeed she is the champion of the oppressed and disadvantaged.
At the performance I saw, Ben Freeman played romantic interest Fiyero with princely charm and nifty footwork. Harriet Thorpe is grandly plummy-voiced as scheming school head Madame Morrible and Christopher Howell touching as the victimised goat academic Dr Dillamond.
Paulo Teixeira is the most evident of the excellent monkeys. Elphaba's crippled sister and the Munchkin Boq who tends her are well played by Katie-Rowley Jones and Sam Lupton and the whole company performs with an energy and enthusiasm that shows no sign of the effects of a long run. Joe Mantello's direction shows great imagination and Wayne Cilento's kooky choreography is such fun I wish there were more of it.
This isn't a show packed with hit numbers. You may not go home whistling the songs but they are crafted to fit their role in the story and readily spark applause. Like many contemporary musicals, Wicked makes big demands on its singers, sometimes requiring an operatic range, but everyone delivers. If there are occasional problems in understanding, that's due more to a fashion for excessive volume and over-amplification than the singers.
Despite the show's American origin, these Ozians speak English English; this is one show in which no one takes on American pop singer accents. However, the Wonderful Wizard (I saw Keith Bartlett), an outsider there because of an unexpected hot-air balloon descent, is played American, which gives a perhaps not entirely intended political edge to his right-wing, fascistic treatment of non-human species, his attempts to exert supreme control and the way he goes about it.
Reviewer: Howard Loxton