Wicked
Music and lyrics by Stephen Schwartz, book by Winnie Holzman, based on the novel by Gregory Maguire
Palace Theatre, Manchester
–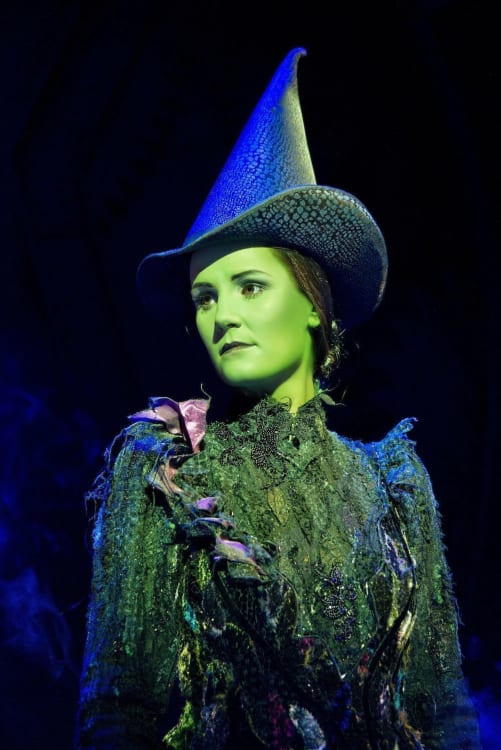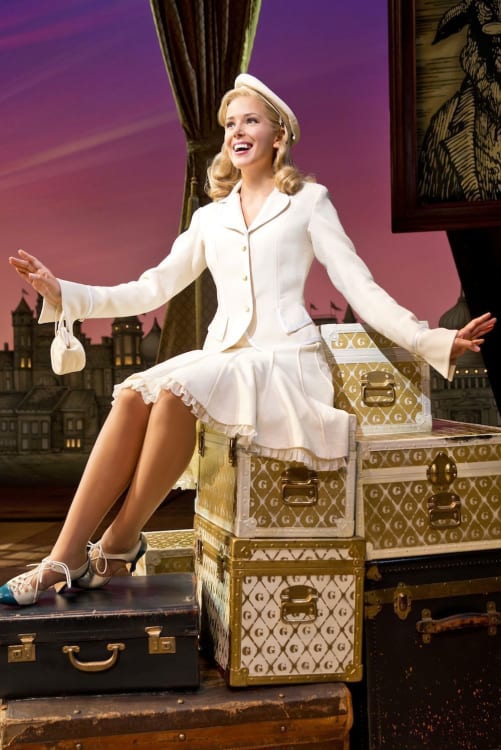 The fans were certainly out in force for the first ever UK tour press opening of Wicked, as every song was greeted by whoops of joy from an excitable—and in some cases impressively-costumed—audience.
This worldwide hit, currently in its tenth year on Broadway and its eighth in London with productions in Australia, Mexico, Japan and South Korea, is to L Frank Baum's The Wonderful Wizard of Oz what Tom Stoppard's Rosencrantz and Guildenstern are Dead is to Hamlet, in that it has the more familiar story running in the background while showing the same characters doing other things.
The show begins with a slightly clumsy framing device that shows Glinda being praised for helping Dorothy to defeat the Wicked Witch of the West and escape, then flashing back to long before Baum's story began to show how Wicked Witch Elphaba became green (I wasn't entirely convinced by that part) and came to be fighting against the Wizard, plus we get origin stories for the Tin Man, the Lion and the Scarecrow. It's all cleverly done, putting a completely different spin on Oz and the nature of good and evil, and it just about hangs together.
However the bulk of the story, from when we flash back, is a familiar American college story (although the accents are British) with all of the usual issues of relationships, friendship loyalties and so on. So of course the nice guy ends up obsessed with the popular girl who has no interest in him and who also leads the ridicule against the socially awkward but intelligent (and, in this case, green) student until they end up as best friends. Of course the good-looking boy is linked with that same girl but his shallowness is threatened when he finds the less-attractive girl more interesting.
Glinda is straight out of Legally Blonde: the rich, self-obsessed but strangely popular girl who is shocked when she doesn't get her own way for the first time ever. As the girl with remarkable magic powers that she can't control when her emotions get the better of her and who, after some special magic tuition at school, ends up fighting The System, Elphaba may remind some of a certain boy wizard.
The rejection of Elphaba could possibly be making a statement about racism, but the society takes a more sinister, fascistic turn as teachers who are animals are removed from their posts, caged and prevented from speaking. One could see it as an allegory of the rise of the Nazis, but this show is no Cabaret; it's rather too safe and superficial to be making any real political statements, but there is something there about the compliance of the majority in the suppression of minorities.
The score by the great Stephen Schwartz has a modern pop-rock style that works very well for its target audience with some wonderful lyrics—I suspect we were meant to groan at some of the cheesier rhymes—that does a great job of holding together a book that is a bit patchy in places.
Joe Mantello's production has been given a very impressive realisation on the Palace stage, particular for a touring production. There is a spectacular scenic design based on clocks and cogs from Eugene Lee with some wonderful costumes from Susan Hilferty, lit beautifully by Kenneth Posner. The sound has a bit of a dullness to it, particularly from the orchestra, but at least the high rock vocals don't sound painfully harsh as they often do at the Palace.
This is very much a female-led show, and there are superb performances from Nikki Davis-Jones as Elphaba and Emily Tierney as airhead blonde Glinda, with great support from understudy Natasha Ferguson as Elphaba's wheelchair-bound sister Nessarose and Marilyn Cutts (founding member of Fascinating Aida) as intimidating magic teacher Madame Morrible.
Dale Rapley has the only American accent as the morally-dubious Wizard of Oz, which he carries well, and George Ure is suitably appealing as the boy who fancies the wrong girl, Boq. Liam Doyle looks just right as the good-looking rich boy Flyero but is noticeably not as strong a performer as the two girls he plays opposite.
This is very much the hot ticket in Manchester at the moment, but the producers haven't sat back on an almost-guaranteed sell-out, chopped up the West End production and waited for the money to roll in. Instead they have given us a top-drawer cast in a spectacular production that looks freshly-minted.
While at its heart it is a college drama writ large in a fantasy world, it's also a great night at the theatre.
Reviewer: David Chadderton