Wicked
Music and lyrics by Stephen Schwartz, book by Winnie Holzman, based on the novel by Gregory Maguire
Sunderland Empire
–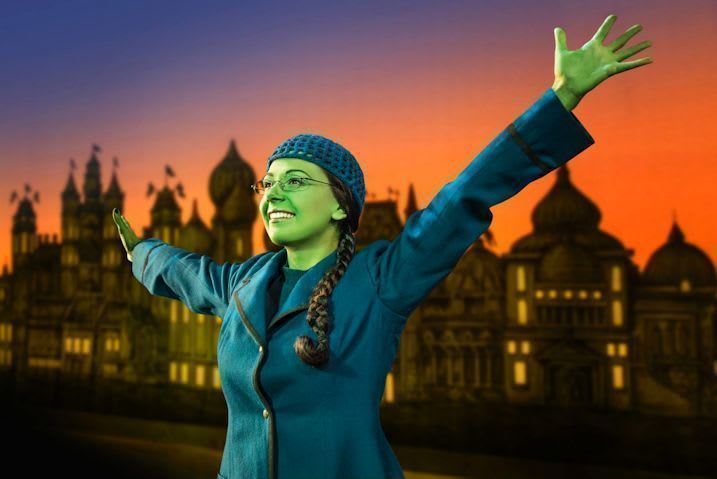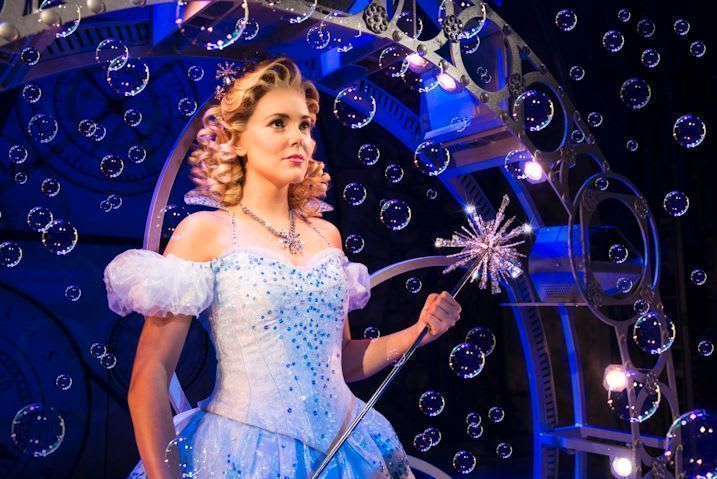 Wicked is a huge hit. Of that there is absolutely no doubt—the audience reaction in the auditorium, as they left and even waiting (interminably!) to pay in the car park proves that, as does the huge number of "wonderful!" and "fantastic!" etc. comments on Twitter last night and this morning. And I am certainly not going to rain on anyone's parade by going against the flow because yes, I did enjoy it. A lot.
It's been described as a prequel to The Wizard of Oz but it isn't: its action precedes and happens alongside the events of the original. Novelist Maguire describes it as a "re-imagining" and that seems to me to sum it up perfectly.
It's very much of its time, too. Set initially in sorcery college Shiz University (post-Hogwarts education, perhaps, although the book was published two years before the first Harry Potter novel), in its depiction of the relationship between Glinda (spoilt brat glamorous airhead who tosses her hair beautifully) and Elphaba (bespectacled, plain, serious and different) it echoes so many American high school/college stories in which both are changed for the better by their friendship.
There's a political thread, too. Nothing controversial—a concern for the rights of the downtrodden. In this case it's the talking animals who are being forced to become mere animals and serve human beings and we are shown two examples: the monkeys which the Wizard of Oz himself keeps in servitude and college professor Doctor Dillamond, an actual scapegoat.
And there's a really nasty witch, Madame Morrible, but we know we don't have to take her too seriously because she can't pronounciate words correctly.
Of course there's also the good-looking boy, Prince Fiyero, who is torn between both girls...
So really it's a simple story but it is far from a simple production. It is one of the most spectacular pieces of theatre I have seen for quite some time. Entering the theatre, we see a front cloth map of Oz with the Emerald City at the centre and only a little later did I, at any rate, become aware of the huge head, shoulders and wings of a dragon above the pros arch, which, as the show begins, suddenly becomes alive.
As the cloth flies out, we get our first sight of a set which is not only impressive in appearance but also in the smoothness of its movement and changes. And when Glinda makes her first appearance, there's a collective gasp from the audience.
The lighting, too, is superb, as are the costumes, and the choreography is imaginative and perfectly executed by a very talented and energetic cast.
Which brings us to the principals. Both Ashleigh Gray (Elphaba) and Emily Tierney (Glinda) develop their characters and their relationship convincingly and, like all of the cast, do everything that can be expected of them, sweeping the audience along.
Then there's the music. It's not, I have to say, particularly memorable in the sense of sticking in your mind but the songs—more Sondheim than Lloyd Webber in the demands they make on the singers—do what they have to do in terms of their emotional impact and the audience certainly responded with enthusiastic applause.
There's a lightness of touch in the lyrics which reminded me to some extent of Godspell although musically Schwartz has moved far away from his first hit—and was that really 45 years ago?
Wicked summed up in one word? Spectacular.
Reviewer: Peter Lathan