Wife to James Whelan
Teresa Deevy
Charm Offensive
New Diorama Theatre
(2011)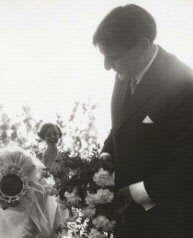 Dublin's Abbey Theatre put on six of Teresa Deevey's plays in the early 1930s but in 1937 new Artistic Director Ernest Blythe turned Wife to James Whelan down, as did the Gate, and in later years she wrote only for radio. This production is its English premier.
It is set in the small Irish town of Kilbeggan, County Westmeath, where work is scarce and opportunities are few. Its first act introduces the characters and their relationships. Nan Bowers is an attractive young woman who draws the attentions of several young men but the one she seems most to respond to is James Whelan and he is off to Dublin to better himself. She doesn't want him to go but he won't budge, He asks for a promise that she will wait for him; she won't give it. The other men seem jealous but don't have his drive. There's a bit of a fight but James announces he'll have a leaving party and asks another of his female admirers to set it up while he gives male friends money to get in the booze. The fight was halted and nothing else really happens and the curtain falls before we even get to the party.
It is one of those 'so what?' first acts but, of course, it is setting things up for what follows, which is the return of James Whelan seven years later when he is launching a local bus company and Nan is already somebody else's widow (a man briefly seen who cycled in from out of town to take over James's job at the end of the first act). She has a child and no work and no money and comes to James in hope of employment.
Have they really spent seven years out of touch with each other? These aren't illiterate peasants, 1930s Ireland had a postal service and did Whelan never make a visit? Seems not, he looks as surprised as we are to discover what has happened to her. Now hurt pride makes him vindictive, especially after she gives in to a momentary temptation (a melodramatic moment that doesn't quite come off) and he is fielding the advances of the daughter of his former employer and all the other people from the first act are shown in new relationships with Whelan.
Deevy doesn't provide the romantic conclusion 1930s audiences might have expected which adds a little more depth to a rather one dimensional story, though one which is a reminder of how tough life could be at the time it was written.
Simply staged by designer Katie Lias: a stone walled exterior with a single bench to sit on that becomes the unplastered interior of the bus company office, with lighting by Catherine Webb that has the feel of real outdoor sunshine. Wife to James Whelan presents us with a set of character types from Kate (Siobhan McSweeney) whose brass bossiness hides a soft spot for Whelan and her prissy brother Apollo (Anthony Deleney) to Conor Short's bus driver Tom who knows which side his bread is buttered and Michael Ford-FitzGerald's stubborn Bill McGafferty with his rival but failing bus service..
Ailish Symons is spirited and charming as the Nan of the first scene, a little of her spirit showing through the subdued widow, and Mark Hesketh suggests a little of the suppressed feeling that the successful Whelan hides behind his arrogant pride. But Gavin McAlinden's direction, with the intention perhaps to make some scenes more realistically intimate, sometimes allows intensity to drop so that in contrast to strong playing elsewhere they lose projection and effect, but Wife to James Whelan is very much an ensemble production, focus shifting from character to character, which gives it vitality.
Run ends 30th April 2011
Reviewer: Howard Loxton