Wild Goose Dreams
Hansol Jung
Theatre Royal Bath Productions
Ustinov Studio, Theatre Royal Bath
–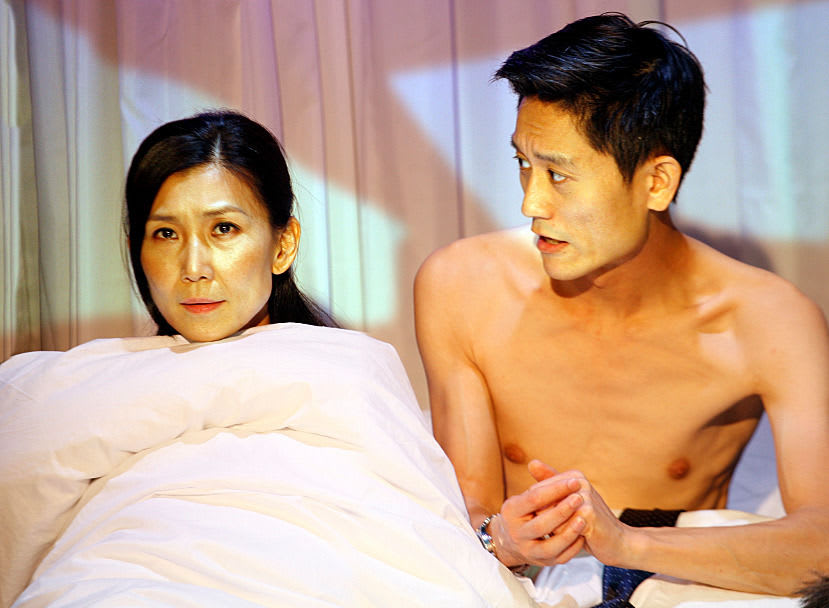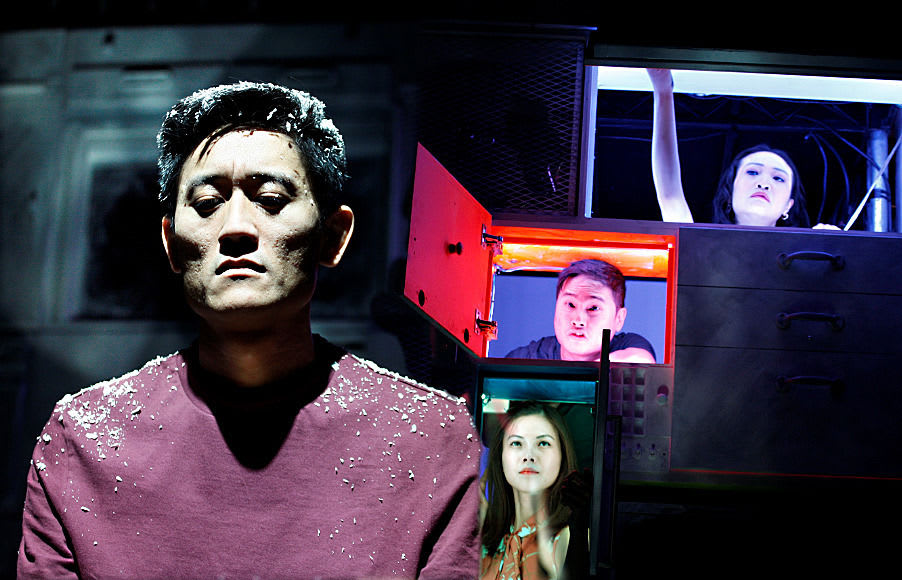 The Ustinov Studio's new season features three UK premières of plays originating in the USA, beginning with the off-Broadway Korean love story Wild Goose Dreams. Written by Hansol Jung, it peels away the façade of an ever-more integrated world to explore the human disconnection that lurks behind, in the shape of two people from the opposite sides of a divided peninsula.
Guk Minsung (London Kim) is a 'goose father': a man whose wife and daughter have flown overseas in search of a better life. He subsists in a tiny Seoul apartment, sending the bulk of his salary to fund their expenses in Connecticut. Yoo Nanhee (Chuja Seo) has escaped the rigours of North Korea, searching to improve her lot in the South. But she misses her father (Rick Kiesewetter)—teller of bedtime folk tales—and, in her loneliness, is tempted when a message from an online dating site pops up on her screen.
The two begin hesitant communications against a backdrop of overwhelming Internet clamour, recreated by an ensemble of six performers crowding and sliding between them, jumping out from behind hatches to interrupt the most intimate moments. This fluid chorus delivers the hectic, easily recognisable staccato of the digital age: binary ones and zeroes, likes, reboots, deletes and emojis, peppered with traffic updates and random clickbait articles ("why Footloose was the Frozen of the '80s!").
The lead couple is compelling throughout, beautifully judged in their tentative relationship, as their real-life meeting stirs up raw emotions both new and old. They each wonder whether their misunderstandings are down to cultural differences ("is that a North Korean joke?"), while Nanhee questions her desirability as a woman over 30 without plastic surgery. She is visited by sudden visions of her father: often goading her, advising on her new boyfriend and even appearing in the form of a penguin—a flightless bird—from the toilet. But there are darker aspects: repeated gunshots and the appearance of a troop of North Korean soldiers indicating something more disturbing and sinister.
Meanwhile, Minsung tries desperately to keep in meaningful touch with his family, connecting with his teenage daughter Heejin (Jessie Baek) on Facebook but unable to navigate the etiquette of their online relationship. Heejin replies from the height of a balcony, the distance of generational divide layered over the growing gaps of culture and technology.
Michael Boyd's direction finds the light and shade in Hansol Jung's vivid, audacious prose and interlinking themes; beneath the clashing demands of family and freedom and the tumult of everyday existence, there lies the humour of a quirkily expressive love song and simple moments of quieter intimacy when the stage is plunged into darkness. Jean Chan's pale, pared-back set design encompasses the rudiments of a life largely sacrificed for others; a pull-out bed and few essentials cramped together, a backdrop to sporadic video projections and multi-screen sequences.
As the protagonists separate only to search for each other again and the claims of their families extract their toll, Wild Goose Dreams proves itself to be a play of contemporary aspirations; of never being fully alive and complete in your own present, but always wishing to be where you are not. At times, like modern life, it can feel too overwhelming; a point well made by this clever and multi-faceted production, crowded with ideas and chock-full of captivating and well-balanced performances.
Reviewer: Claire Hayes