Wild Life FM
Pol Heyvaert, Kim Noble and the cast
Campo Arts Centre (Ghent), Unicorn Theatre, Norfolk & Norwich Festival in association with Gessnerallee Zürich
Unicorn Theatre (Weston Theatre)
–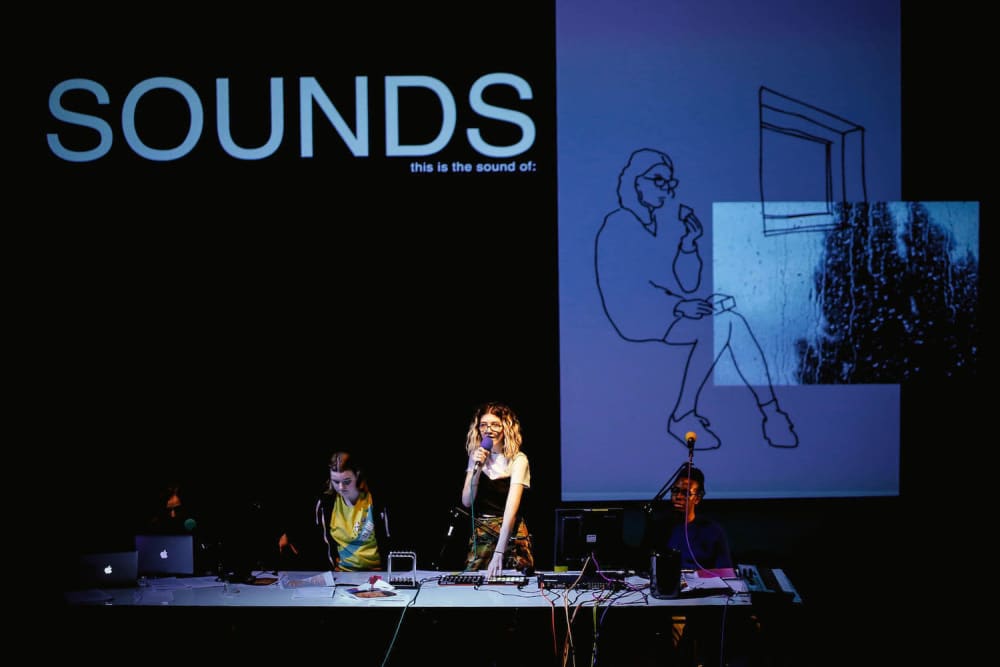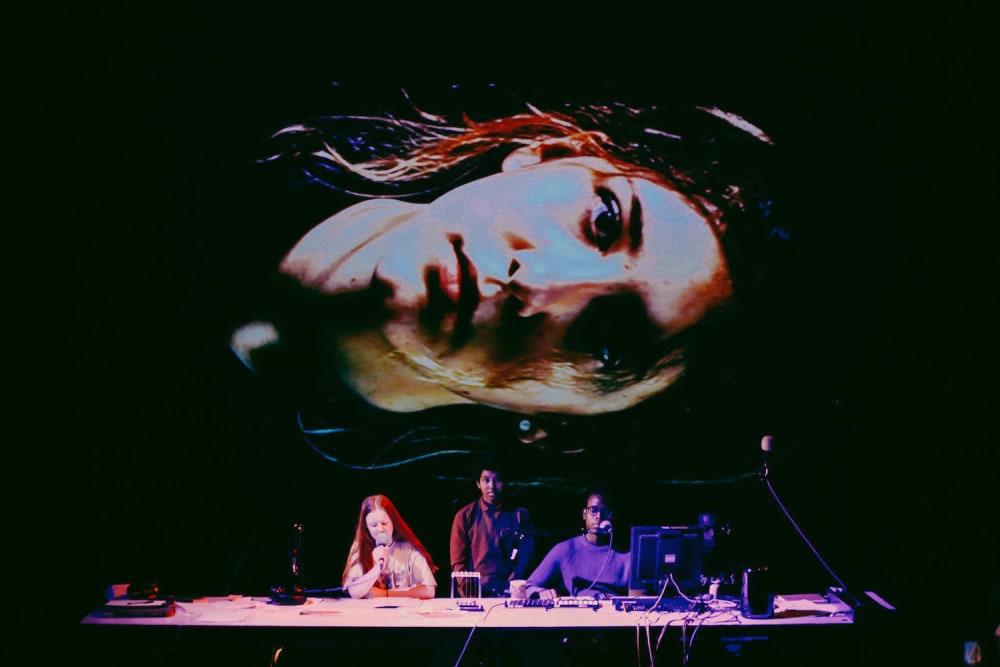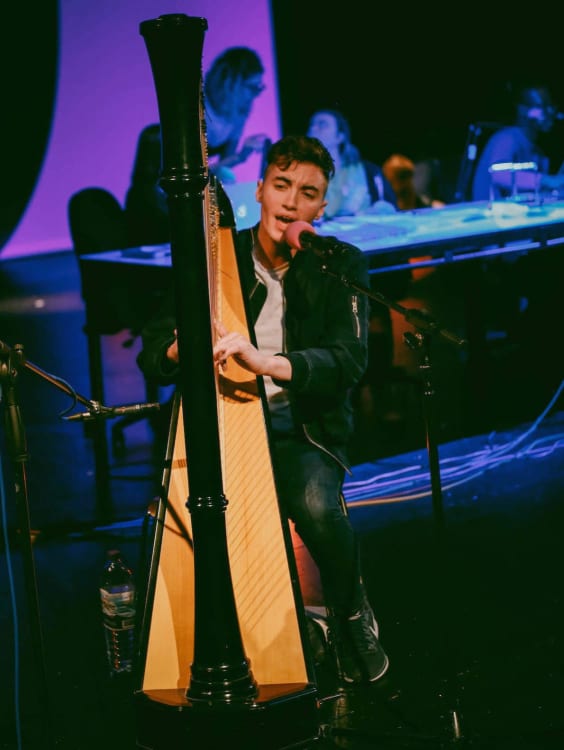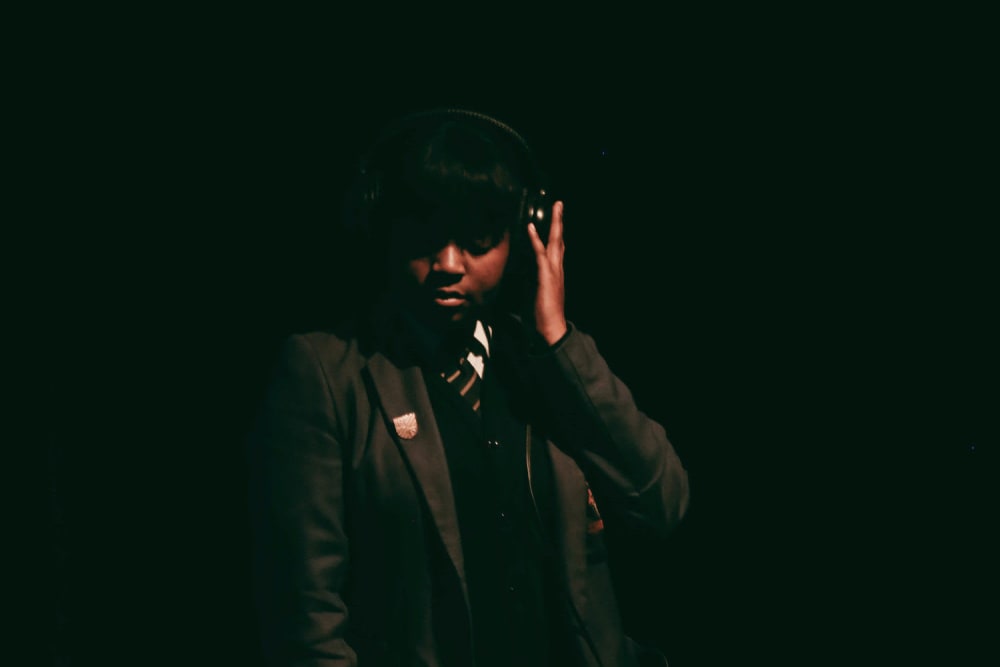 This isn't a play, or a gig, the Unicorn's publicity warns, but a kind of mixture of both. It's a live broadcast you watch being created that on the press night went out on Resonance FM and on the Wildlifefm.org web site. It's been devised by 9 young musician performers working alongside director Pol Heyvaet from Campo Arts Centre and writer Kim Noble, saying what they want to say based on their lives and experience.
It is a straightforward staging: a line of tables with laptops, microphones and a sound mixer, more mikes on stands in an arc in front of them, a guitar leans against a chair and, intriguingly since these are teenage musicians, a harp. A mandolin is among later live instruments as well as pre-recorded instrumentals and backing tracks.
There is just Justin Campbell on stage to begin with, playing tracks as the audience settle into their places and then setting things moving explaining that this is a show for young people and that he "used to be a goldfish". As he suggests that it will be about a whole range of things—politics, identity, gender, education, maintenance, fees… it goes on—the long list appears behind him being typed in on a huge computer screen projection: computer visuals will often accompany action.
In the fifty minutes that follow, there is not time to cover all the many topics mentioned and, though this lead-in declares that "the young are paying the price of economic collapse," this isn't a cry of political anguish but a succession of more glancing looks at what life is like that has a heavy lacing of humour.
For the first song, the singer has brought her dad along, helps him down from the audience for he's damaged his leg. He stands at a microphone but is he singing a backing or just there for moral support? It feels improvised and amateur but of course is actually a clever way of establishing a warm, relaxed atmosphere that embraces the audience.
What follows is a mixture of jokey telephone calls, online messaging, banal audience interviews (conducted with a smiling but straight face by Mikey Arhin-Acquaah) that approach serious things from a tangent. Mixed in are tuneful songs with a number from harpist Noah Horne that is particularly pleasing.
Situations range from snogging in sordid circumstances and satisfying a desperate sex drive to a 112 call to the emergency services worried that the man watching them in the third row may constitute sexual harassment. Malachi Alfred-Lecky touchingly worries about being different and not fitting in, about not being accepted.
The painful and the hilarious are mixed up together, the stories delivered as though their own, though they may not be. Justin Campbell's velvety rich voice perhaps gives him more weight but this is an ensemble that works well together.
This is a collage that sometimes seems a bit of a muddle but I suspect that is deliberate artifice to add an air of spontaneity. It doesn't pretend to profundity and, while its individual elements are entertaining, it is the overall effect that makes the biggest impression. With the barrage of information appearing simultaneously on screen a distraction from the foreground performer, you see just what an overload youngsters now handle compared with their elders, plus problems that may look petty but aren't when first facing them that are all part of growing up and surviving. There is an honesty and openness about what is presented but just an occasionally feeling that, in occasional eruptions of naïvety, they are having a laugh at a generation that think themselves older and wiser.
I was left with the image of a young man escaping from life's pressures by cycling through the night streets into the dawn. "We should be angry," he says, "but…" Yes: the young should be angry and we should give them a voice but Wild Life FM seems to suggest that they are too busy dealing with the private and personal to start fighting the bigger battles—and I don't really believe that.
Wild Life FM had its first outing in Norwich in June 2016 and, after playing at the Unicorn, will be seen in Switzerland, Belgium and Germany.
Reviewer: Howard Loxton