Wild Swimming
Marek Horn
FullRogue
Bristol Old Vic
–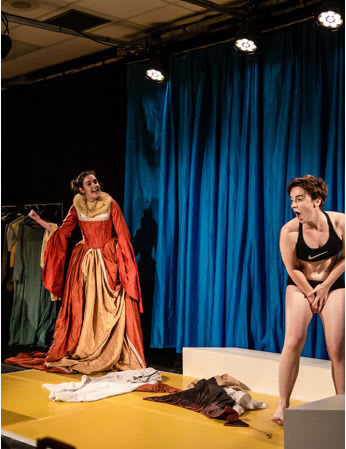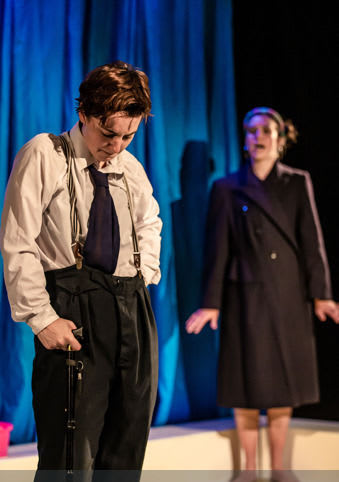 Following a successful run at the Edinburgh Fringe, FullRogue returns to Bristol Old Vic with Wild Swimming, the show that made its scratch debut as part of 2019's Ferment Fortnight artistic development programme.
Annabel Baldwin plays Oscar and Alice Lamb is Nell, two childhood friends whose meetings on the same Dorset beach span 400 years of English history. It begins in the Elizabethan era: think of an anarchic cross between Virginia Woolf's Orlando and David Nicholls's One Day with an added frenzy of edible snacks.
Sharply written by Marek Horn, this playful hour-long production simmers with ideas of gender privilege. Oscar returns from his first year at university with his head crammed full of romantic poetry and swimming the Hellespont, but Nell has never been away. She may come from an affluent family and have the upper hand in the sharpness of their verbal jousting, but she must wait at home to be married while Oscar enjoys the roving life of a young gentleman.
Despite their differences, Nell and Oscar's destinies are intertwined. They challenge each other's ideas and assumptions but, as they gallop through the centuries and audience-assisted costume changes, there's a natural teasing warmth between the two. FullRogue's stated aim is to "stress test" new works—even potentially destroying them—in live performance; Julia Head's direction frequently (it could be argued too frequently) delves into the meta, with bouts of intensive line delivery punctured by seemingly impromptu discussions of their merits.
Though the two characters remain consistent in their relationship throughout the years, shifts in tone and perspective occur in each era as Nell finds greater opportunities in the world beyond the beach. From reading Jane Eyre in the 19th century, her voice finally emerges in the hiatus between the two World Wars, just as Oscar is losing his. Amid the boisterous, energetic fun of this idiosyncratic race through history, his quiet diminishment after fighting at Gallipoli is palpable.
While Nell refuses to bow before a soldier's reverence for sacrifice or countenance a madcap scheme to avoid the present day, Oscar retaliates that she views him as an oppressive idea rather than a fallible individual struggling to exist in a world he no longer understands. A refreshing and taut exploration of gender politics delivered with deceptively relaxed wit and silliness; Wild Swimming may only have snacks on offer, but this production provides more than enough food for thought.
Reviewer: Claire Hayes