Wild Horses
Nimer Rashed
Theatre503
(2010)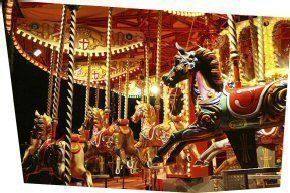 Don't try to deviate from your designated channel through life. It only leads to heartbreak: lost friends and unfulfilled ambitions for Ellie (Jessica Clarke), the main character in Nimer Rashed's Wild Horses, and a near-fatal final act derailment for the play itself.
Seventeen-year-old Ellie (that's Eleanor, not Elizabeth) is welcomed gingerly back to Eastbourne after six months AWOL with an older man. Her eyes have been opened just enough to take the shine off the idea of a job in Tesco's and two point four children with sweet but goofy on-again-off-again Darren (John Trindle).
Meanwhile the friends and family she left behind have - discourteously - failed to stay the way she left them, so she can't even lord her new-found worldliness over them. Her Dad's transferred his fatherly affection to Carol Vorderman, her best mate Zoe's about to turn the tables and abandon her for the bright lights of Camp America - even Darren smokes a pipe now.
In short, Ellie would have been happier accepting the hand life dealt her, instead of chasing romance and ambition. Her guilt over disappearing makes her incapable of refusing anything she's exhorted to promise, which leads to a string of broken oaths, until no one trusts her but the reassuring, though mysteriously recurring, Tom Kanji.
All of which is captivating enough, but though Rashed's plot threads are many-hued and skilfully interwoven, all but one is hacked off and left to dangle. What's more, the one that is given some closure isn't introduced - or even really hinted at - until the final act.
What Rashed's going for is a daring last-minute rug-pull à la Theatre503's last big hit, The Mountaintop. Ideally the rug should be swept stylishly out from under us, exposing the glass floor below, so we realise with wonderment that all along the play was not what we unimaginatively assumed it was. What actually happens is the rug snags, and we're left sprawled on bruised behinds, humiliated, birdies circling our heads as we squint uncomprehendingly at the Dadaist magic-eye ceiling tiles, until the play apologises, replaces the now-ragged rug and pretends the whole incident never happened.
It's never a mistake to dare to try something bold and different. But as Ellie learns, when it turns out you were wrong, admitting it - to yourself and others - is the only way to move on.
Until 10 July
Reviewer: Matt Boothman