There Will Be More
Edward Bond
Cock Tavern Theatre
(2010)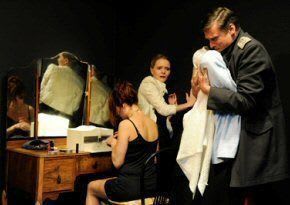 A new play from Edward Bond getting its premiere in London is something that has not happened for more than twenty years. There Will Be More has Bond's unmistakable stamp and makes a fine climax to this company's festival of his plays which have been largely ignored in Britain and either never been performed in the capital or not revived here since their original production.
In a series of single paragraph statements about theatre in the programme that Bond calls 'little essays' he says, 'There must be a new drama. In it the audience will again look at the stage and see itself. It will be democratic. It will be revolutionary.' I wonder whether the audience will recognize itself in this new play.
In another of these 'little essays' he says, 'Political drama must look at the profoundest human paradoxes. Greek drama did this for us. The critical dramas for the last century were Oedipus and Antigone. This critical drama of our century is Medea.'
In this play one leading role is called Dea, her husband Johnson, with obvious reference to Medea and Jason, and there are echoes of the Oedipus and Agamemnon too as well as Bond's own works. Classical drama does not spell out reasons and neither does Bond. It is the audience that must find its own answer to every 'Why?' and this places enormous demands upon the actors for whom the script gives no easy route to finding motivation.
When a cot is brought onstage and then two small babies laid in it as their mother silently paints her face, you cannot help remembering Saved, Bond's first play which shocked audiences when first performed more than half a century ago.
From inexplicable infanticide - 'You wanted me to do,' says Dea to her husband - and marital rape, the play moves on eighteen years to present us with a child born of that rape, one of another pair of twins who believes his mother is dead. Another sexual assault is followed by more killing until the stage has borne as many corpses as Hamlet or a Jacobean revenge tragedy, but what we are seeing here is not revenge. What is it? There are paradoxes here aplenty. This private violence is set against a background of public conflict: both at the opening and eighteen years later the country is at war. Ironically Johnson, a colonel, has bombed the asylum where Medea has spent the intervening years.
This is indeed like classic Greek drama, except that the violence is done before us, not offstage reported by messengers. It seems to have the same inevitability and that fatalism is inherent in Adam Spreadbury-Mayer's production which is staged on the set used for most of this season, now painted a green-grey to form a neutral background that with minimal furniture indicates a domestic setting.
Helen Bang plays Dea, disturbing in her stillness and silence at the beginning of the play, her pleasant ordinariness of the later scenes flaring into sudden violence. Playing Colonel Johnson, who ether talks to someone who doesn't respond or speaks to people to whom he never properly listens and subject always to sudden mood swings, is an enormous challenge to which Stephen Billington rises with great energy. It is a performance which can, and I feel sure will, develop through the run as he finds the perfect timings to match the sudden transitions of mood or attitude. As their son Oliver, Timothy O'Hara presents a strange dichotomy between almost cataleptic state and a young man who picks up women on the street below, a mixture of innocence and something dangerous.
There are moments when heaving bared buttocks and underpants not quite pulled down enough to make copulation convincing could turn an audience to laughter. It says much for the passion of these performances that there's no vestige of a titter. Horror outweighs humour. In this fascinating play Bond shows how easy it is, under the pressures of circumstances, to tip over the edge into violence which, rather than carrying out some long contemplated plan for punishment or revenge, even if that is the motivation, has the irrationality of the moment.
Bond says There Will Be More is the first part of a longer play in three parts. Where will he take it? That is something I look forward to discovering.
Runs at Cock Tavern theatre in repertoire with "Red, Black and Ignorant" until 13th November 2010
Reviewer: Howard Loxton