William Shakespeare's Long Lost First Play (Abridged)
Austin Tichenor and Reed Martin
Reduced Shakespeare Company
Curve Theatre
–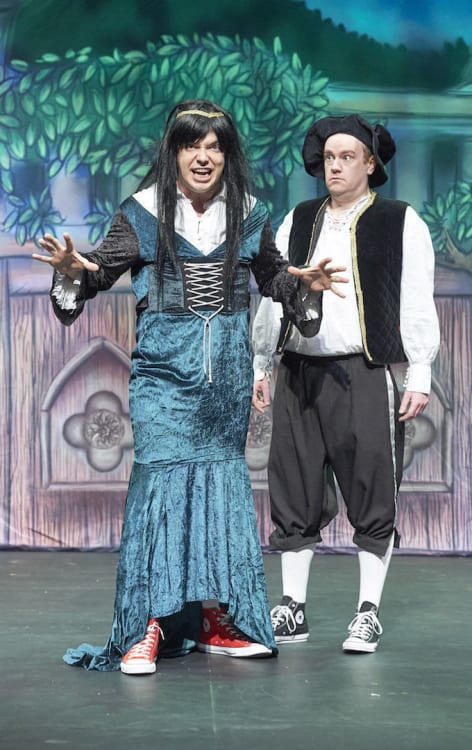 Well, hey nonny nonny, you won't believe what's turned up next to a pile of bones in a Leicester car park—none other than a long lost first play written by a 17-year-old emerging playwright called William Shakespeare (allegedly).
Thus the "other" RSC, the Reduced Shakespeare Company, presents William Shakespeare's Long Lost First Play (Abridged), a "faux-lio" inscribed with various working titles such as "Breaking Bard" (just two of many groan-inducing puns peppered throughout). While Storm Doris blew and crack'd her cheeks outside, the audience experienced a 90-minute whirlwind of a production at Curve's Studio, the performance part of Leicester's Comedy Festival as well as one stop on the RSC's extensive national tour celebrating the company's 35th anniversary.
As the self-confessed "bad boys of abridgement" and widely-acknowledged brand leaders of the Shakespearean parody genre, writers Austin Tichenor and Reed Martin assemble many of Will's well-loved and -loathed characters in one play. Controlled by a feuding Ariel and Puck, all of young Shakespeare's characters interact with each other; from this work he would later pick out the best bits, give them their own dramas and hence the plays we know today.
For the 10th addition to its successful franchise, the RSC continues to treat its source material with both reverence and irreverence. Employing trademark plot devices including tempests, shipwrecks, ghosts, love potions, cross-dressing and star-crossed lovers, Joseph Maudsley, Matthew Pearson and James Percy zip through this fast-moving and funny homage to Stratford's most famous son. Throw in topical references, squirty guns and a little working of the audience, there's something for everyone.
Lady Macbeth is a vamp, we see Richard III with and without his hunched back, Kate and Beatrice get it on, the Weird Sisters double up as Lear's daughters… this is one crazy plot, but it works.
Special mention too for the company and assistant stage managers, Sarah Quinney and Jessica Rice, holding it all together managing umpteen quick-fire costume changes and beautifully-timed sound design.
The multi-talented cast exude bucketloads of charisma, comic timing and excellent delivery, and, whether you're a Shakespeare scholar or novice, measure for measure, this is a delight of a show.
Reviewer: Sally Jack