Wilton's Vintage Christmas
Nick Hutchinson
Wilton's Music Hall
(2010)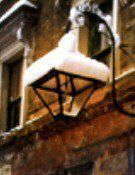 Wilton's Vintage Christmas is not what most people probably think of as an old time music hall bill, especially if they are fans of The Good Old Days televised from the Leeds Palace of Varieties. However it may be much closer to what you might have found in Wilton's a century and a half ago then you might imagine. It is short on well known musical hall numbers - though there is a splendid rendering of 'Champagne Charlie' from Mr Vince Leigh with whom you can join in the chorus and a naughty little version of 'When I Take My Promenade' delivered by saucy Lotte Latham - but its monologues and little sketches, along with ballads and a capella carols, might indeed have been the kind of mixed entertainment you might have found here at Christmastide.
Writer/director Hutchinson has put together a programme which collects together a range of Christmas material that draws on sources from Shakespeare and Ben Jonson to Noël Coward, Eleanor Farjeon to John Evelyn, and Ogden Nash to T.S. Eliot. It opens with the company as Victorian carol singers coming through the theatre singing 'In the Bleak Midwinter' before Graham Seed, in the character of John Wilton, founder of Walton's, introduces his company of, as it were, Victorian Christmas ghosts.
Their first items anticipate the coming of Christmas before taking a look at Christmas Past, including the abolition of Christmas, dramatising the condemnatory spouting of a Puritan evangelist and John Evelyn's diary description of his arrest for attending a Christmas service. They then launch into a celebration of Christmas Present - Victorian Christmas that is - with episodes from Dickens's A Christmas Carol and from Henry Mayhew's interviews with the London poor.
Christmas Yet to Come is a look forward from Victorian time (not from our own) encompassing more Dickens, Dylan Thomas and the Christmas Truce of World War One. Post-curtain call there is a final burst of popular carols for the audience to join in too.
This is a gentle, unpretentious ninety-minute entertainment, at moments a little like an animated lecture, but beautifully dressed and delightfully presented, well matched to its environment. For a jaded critic faced with all too many versions of A Christmas Carol at this time of year, its slight tongue-in-cheek presentation raised my tolerance level. There are some strong portrayals from Michael Fenton Stevens as Scrooge and Old Father Christmas, and Owen Pugh reporting from the trenches and a lovely arrangement of a carol new to me, Peter Cornelius' 'Three Kings from Persian Lands Afar'. Musical Director Philip Pope, who I presume was at the piano, seems also to be one of the performers and his singers do him credit.
Ends 18th December 2010
Reviewer: Howard Loxton