Wind Resistance
Karine Polwart
Lyceum Theatre Company
Lyceum Theatre, Edinburgh
–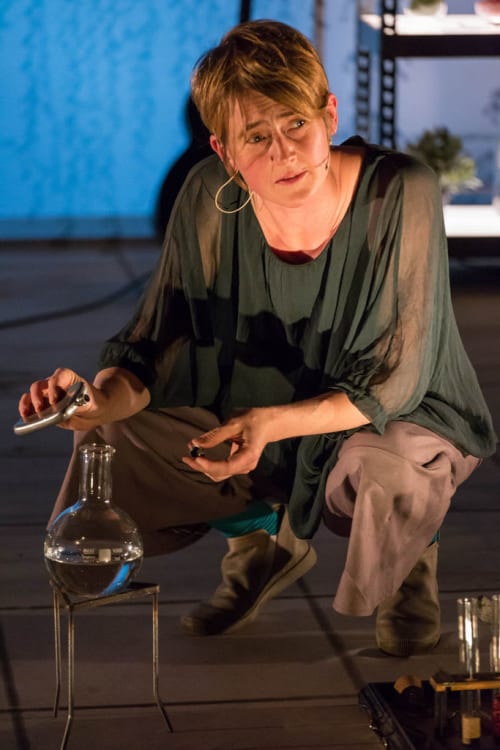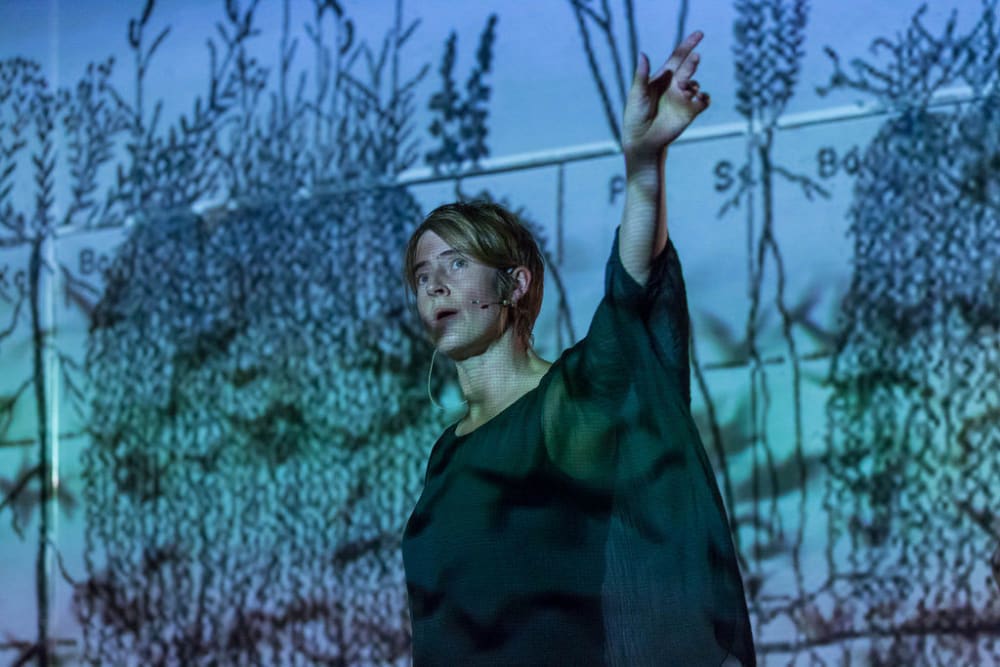 Wind farms do pop up, but this is not a piece about fighting them, as I originally thought; the title in fact refers to the way geese cooperate to make migration less tiring.
Karine Polwart is the sole performer on stage and it is a tremendous performance, but this is a lot more than a one-person show. It is also a gig for Polwart's album, it is a introduction to a very specific place, Fala moor, and it is also a universal discussion on our relationship with nature.
If you think that all sounds quite ambitious, which it is, you might be surprised that Polwart fits it all in to a mere one hour forty-five minutes, including a twenty-minute interval.
The music, songs and speaking are woven together like a tapestry, no obvious seams. Polwart has a musical way of talking in her poetic Scots tongue, while there is much spoken word within the songs.
Polwart weaves in many topics from the sphagnum mosses in the Fala bog, folk tales and tales of real people from the Fala area. It is a beautiful spinning of science and stories, people and the land.
Particularly fascinating is Polwart's research into the medieval hospital at Soutra and also ecology of the bog. Seemingly dry topics are brought to life on stage and Polwart cleverly draws us in.
There is a genuine enthusiasm at the heart of this performance, which gets the audience excited about not just medieval medicine and moss, but also barn owls, skylarks and Alex Ferguson's coaching techniques.
It is more than a one-person show as Polwart's performance is enhanced by some great sound and projection, from the sounds of the water beetles in Fala flow to the spectacle of the geese on the backdrop.
There are many instruments on stage as well as animal sounds from offstage, a great sensory experience, especially for the ears. For the eyes though there is a blend of dance and projection, Polwart through simple movements presenting the birds she describes.
While Polwart is often a very entertaining performer, with many light moments, in the second half particularly there are more serious stories woven in. In particular, Polwart deals with childbirth, both her own son's and others less fortunate.
There are many important messages delivered through this rich, well-crafted, uplifting piece. It has been woven with warmth, humour and most of all skill, a wonderful way to while away windy November night.
Reviewer: Seth Ewin