The Wind in the Willows
Kenneth Grahame, adapted by Alan Bennett
Coliseum Theatre, Oldham
(2005)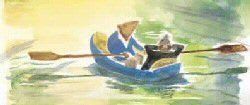 Kenneth Grahame's tales from the riverbank of Ratty, Toad, Mole and friends have been adapted for the stage many times since their publication in 1908, from AA Milne's Toad of Toad Hall in 1929 to this recent adaptation by Alan Bennett for the National Theatre, not to mention numerous film and TV versions.
Bennett's script is faithful to the original book, incorporating most of the events described in the book in a similar order. As the book was more a collection of related short stories than a continuous narrative, the result is a long, meandering show that lacks a strong storyline. At times the play becomes quite static as events are revealed through lengthy dialogue rather than through action. Bennett's original dialogue fits well with the dialogue from the book, although most of the gags seem to be aimed at adults rather than at children.
Kevin Shaw's production for the Coliseum takes place on a strikingly colourful set, designed by Alison Heffernan and lit by Phil Davies, with some nicely-designed room interiors that slide smoothly on and off the stage. Mr Toad is played superbly by Dale Superville, who brings the play to life whenever he appears. He is supported ably by Rob Parry as Mole and Martin Reeve as Ratty. Russell Dixon certainly looks and sounds the part as Badger, but he tends to deliver his lines in a very slow, laboured manner, which slows the pace and throws off some of the comic timing.
The rest of the performers all play multiple characters and many of them play multiple instruments as well. Kieran Buckeridge stands out in particular for all of his characters, especially the chronically depressed horse Albert (think Marvin from Hitch Hiker's Guide but with ears and a tail) and he is also the show's musical director. Adam Sutherland is excellent as the Chief Weasel with his sidekick played by Maeve Larkin - they are played as a pair of Manchester 'scallies' which works very well.
The Coliseum has produced a bright, colourful and lively production of this well-loved series of tales. The audience at the opening night ranged from the very young to the quite old, and this show managed to charm and entertain them all.
"The Wind in the Willows" runs until 11th June
Reviewer: David Chadderton