The Wind in the Willows
Kenneth Graham, adapted by Patrick Sandford
Derby LIVE
Derby Theatre
(2010)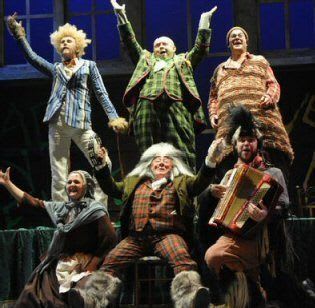 Twelve months ago Derby Theatre presented what I described as a "daring" Christmas production, an adaptation of the fairy tale The Snow Queen by Hans Christian Andersen. It was directed by Hannah Chissick on her return to the theatre where she directed her first main-stage show a decade ago.
Its success prompted Derby LIVE to bring in Ms Chissick to take care of this year's seasonal offering.
She's re-engaged Sean McKenzie and Laura Checkley from last year's cast, brought in her long-time collaborator Philip Witcomb to design The Wind in the Willows and, for good measure, she's directing her father Jack for the first time.
All the pieces are there for another cracker - but somehow the show doesn't quite have the sparkle nor the magic of The Snow Queen.
However, that's not down to the actors nor the creative team. If anything it's to do with the adaptation which doesn't really get going until after the interval.
The first half introduces Toad of Toad Hall along with his friends and also outlines the story. At this stage there's little audience participation, few laughs and some very ordinary songs.
It's only when Toad's obsession with cars has got him in trouble with the law and he ends up in prison that the show really comes to life.
Children in the audience, who had had to be content with the characters' delightful costumes and references to poo, are awestruck by a jailbreak, trains racing through tunnels and animals' ingeniously making their way through a secret passage. They do this by walking up one aisle of the darkened auditorium, disappearing out of view and coming down the other aisle.
The younger members of the audience also get to boo the weasels who've taken over Toad Hall and cheer when the good guys win.
Even the music gets better; there's a Tom Jones pastiche with "The Green, Green Toad of Home" and a resounding ending with everyone clapping along to "When the Toad Came Home".
As Toad, Sean McKenzie gives a sterling performance; he's cheeky, silly, mischievous and likeable. He elicits sympathy when things go wrong and everyone is rooting for him to come out on top. McKenzie can also ad lib when a scene doesn't quite go to plan.
Jack Chissick is suitably regal and sensible as Badger; James Loye gives us a geeky yet amiable Mole; and Peter Caulfield is gentlemanly and shrewd as Ratty.
Laura Checkley, who played multiple roles in The Snow Queen, takes half a dozen parts in The Wind in the Willows. She's particularly impressive as a rabbit and an impertinent washerwoman although she stylishly differentiates between all six characters.
Martyn Dempsey tackles four supporting roles with relish while six Derby LIVE Youth Theatre members throw themselves enthusiastically into their performances.
Hannah Chissick directs with assurance and Witcomb's set which covers a multitude of scene changes is little short of stunning.
In the end The Wind in the Willows wins over people of all ages. If the first half had been as eventful as the second, the production might just have blown me away.
"The Wind in the Willows" continues until January 15th
Reviewer: Steve Orme