The Wind in the Willows
Alan Bennett, adapted from the book by Kenneth Grahame
Iris Theatre
St Paul's Church, Covent Garden
(2010)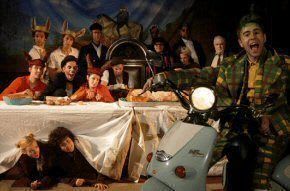 This promenade performance, directed by Daniel Winder, turns the gardens of St Paul's into the river bank and wildwood of the story with only the final scene actually in the church which, as you might expect, becomes Toad Hall. You arrive to find a game of badminton is going on. It is being played, as you soon realise, not by people but by a rabbit and a squirrel and various assorted animals taking turns to have a go.There are some little fellas who turn out to be hedgehogs who've even got a real rabbit with them and perhaps those pigeons settling by you are not there by chance either.
For a few moments it seems all too consciously twee and obviously 'acting'. Then the style establishes itself: it is as though these are actors playing children playing animals and from then on we as an audience become complicit in a game. By the time bespectacled little Mole arrives we are all participants. That innocent young chap is delightfully played by Laura Wickham and with a girl playing a boy you can be pretty sure that all the kids of both sexes will soon have identified with him/her. Sex does not rear its head among these animals. Even the rabbits are free of any urge to rapid self-replication, though later a human character does seem to take a romantic shine to Mr Toad.
Everyone is cleverly costumed (by Joanna Beart-Albrecht) to suggest both animal and character, some sporting ears or tails and displaying individual creature characteristics like the deliciously twitchy nose of Scott Jones's Ronald Rabbit.
A band of undulating blue cloth appearing above the garden's central path turns it into a river and along it comes a boat rowed by Robert Lonergan's Rat, ducks bobbing in the water around him. Matthew Mellalieu's Italian-accent Otter and his boy flop out of the water to join Rat and Mole's picnic and in the distance we can see wildwood creatures popping out of the undergrowth. Later we met Mellalieu again as kindly Badger in his house in the wildwood and, of course, at Toad Hall there is Mr Toad whom Laurence Saywood makes petulantly infantile.
Toad's scrapes are the storyline as one wild enthusiasm replaces another after each ends in disaster: a boat, a caravan, a scooter until eventually he gets sent to jail., escapes by train and canal barge, returns to Rat's house and joins his friends to reclaim Toad Hall which has been taken over by the wildwood weasels and stoats. By the end of the show patience with him and his insufferable egotism has worn and we need to see a more likable side or a bit of real rather than fake charisma if we are going to have a happy ending, or to make it clearer that it is time to change. You can't go on like this when you grow up.
Winder has devised a very lively show, his hard-working cast are particularly good at communicating with the littlest members of the audience on a one-to-one basis and transport all of us from location to location with music and encouragement. There are always benches to sit on if you don't want to keep on your feet as you discover the little houses of the leading characters that Sarah Booth has cleverly designed so that they open up to show you their interiors.
Diana de Cabarrus is there with her guitar for every scene and most of the animals are ready to pick up an instrument whenever needed for the many happy songs that go along with the action.
This playful production creates a real holiday atmosphere for kids and grown ups alike, and, although it could encounter some resistance from teenagers, the cast - and especially the hand-bandages, soot-smirched stoats and weasels, Liv Spencer's rebellious Black Country horse and John Harwood's drag bargewoman - would surely soon win them over. They might even enjoy it as much as Charles Grant does playing a properly posh magistrate.
Until 2nd July 2010 in repertoire with "Romeo and Juliet"
Reviewer: Howard Loxton