Days of Wine and Roses
J P Miller in a new version by Owen McCafferty
Theatre by the Lake, Keswick
(2007)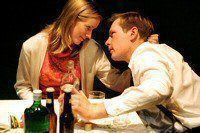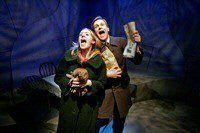 Owen McCafferty has taken J P Miller's screenplay from the 1962 film directed by Blake Edwards and starring Jack Lemmon and Lee Remick and produced a completely new version of the story for the stage set in Belfast and London.
Mona and Donal meet for the first time at Belfast Airport in 1962 and discover that they are both moving to London alone to work. They stay together in London and end up getting married and having a child. Donal's work as a bookmaker involves him in a lot of drinking sessions with colleagues and clients, which Mona starts to join in with. Soon they are both drinking all the time, putting at risk everything they have.
Stefan Escreet's production in a corner of the tiny studio at Theatre by the Lake is tight and intense but by no means without humour. The superb cast of Allie Croker as the impulsive and childlike Mona and Richard Galazka as the more cautious Donal produce compelling performances of totally believable characters. There is an interesting idea linking the scenes where the actors mime to 60s songs with some vague link to the current situation whilst changing over props and costumes.
The play can get a little bit preachy at times, but generally it is a fascinating and frustrating portrayal of two people getting sucked into a downward spiral, and the performances by the two actors in this production are absolutely wonderful.
Reviewer: David Chadderton