Wink the Other Eye
Angus Barr
Wilton's Music Hall
(2008)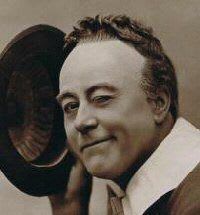 This is being promoted as Wilton's first true Music Hall show since 1880 and indeed it does begin as a recreation of an old Music Hall bill with proprietor John Wilton as Chairman welcoming us to his own newly-opened Music Hall in 1859. A replacement for his former music room, this is now, he assures us 'the handsomest room in town.' Soon he is introducing a succession of performers delivering lively renditions of popular numbers with the audience joining in the choruses (song sheets provided in your programme).
Individual performances are linked not only by the Chairman's eulogistic introductions but also by dramatic episodes matched to the numbers which are not so much sketches in the entertainment as an on-going melodrama in themselves, though it takes a little while for this to be apparent. Some of these, and the Chairman's conversations with his artistes, also turn out to be designed as a potted history of the building and the Wiltons so that some numbers are delivered by characters who are not music hall artistes. 'The End of My Old Cigar,' for instance, is sung by a fireman come to inspect that hall's adherence to safety regulations, who turns out to be a bit of a pyromaniac, and the direct cause of the conflagration that destroyed the roof and damaged the building in 1877.
A strong and hard working company give the show great vitality. Except for Roy Weskin's commanding chairman, who nevertheless has a number of his own, they all double or treble as both various artistes and others, including a Salvationist campaigner and her son - though in packing 29 songs and all the other material into the evening's 2 hours 45 minutes (including two intervals) several numbers are somewhat truncated. The emphasis is more on early music room participation than on any recreation of original performances and the show is weakened by trying to do too many things at once. There are some too contemporary sounding references and allusions that disrupt the historical record and songs seem to be placed for convenience of topic links rather than in the chronological place that fits the history. I wondered whether some of the sexual gestures used would actually have been employed in a public entertainment then, while on the other hand some of the sexual innuendo of songs such as 'A Little of What You Fancy' seemed to be missed, though Suzie Chard's full-prowed Ria could not have been more saucily provocative.
If this were presented simply as a musical bill it would be fine to have songs from every period of the halls, and they would not necessarily have to be sung in the characters of the performers with which they are associated, but since the early scenes of melodrama strand have Lulu Alexandra's innocent seeming ingénue Daisy being seduced by Burlington Bertie - a character not invented until twenty years after Wilton's closed, it does confuse things. (It was Vesta Tilley have first sang 'Bertie' in 1900, the version used here 'Burlington Bertie from Bow' is a number written for Ella Shields in 1915.) However, Kali Hughes in travesty makes a vivacious Bertie and since she can't have fathered a pregnant Daisy's baby that young woman is clearly not so innocent after all! Miss Hughes is also a delightful Mrs Wilton, running off with the man on the flying-trapeze and the spoilsport Salvationist. Mark Pearce is Champagne Charlie, with a scene reminding us that George Leybourne and his song were an early case of business sponsorship, and also Daisy's country bumpkin lover. David Morley gives us a number of lugubrious characters, including a drag Nellie Wallace, and Mike Sengelow brought a touch more reality to the playing with his room waiter and as the salvationist's son Joshua: he may have been named simply to fit the song 'Joshua' but he managed to turn this into a fuller character and his 'Girls, Wives and Kids' was the first number to really hit the right musical hall atmosphere, though he did have the advantage of having the house warmed up by several of his colleagues.
Whilst seeming to offer a history of Wilton's, dramatist Angus Barr has actually given us a rather vague overview of music hall in general - for he carries his narrative and his numbers up to the First World War and beyond, long after Wilton's had been turned into a Methodist Mission. His direction also seems a little unsure of what it is trying to do. We don't really believe in these performers as actual artistes, there's just a bit too much of a send up about them. He throws away an opportunity to give a serious history of the building and its performers while not give itself entirely over to recreating music hall -- and I couldn't help feeling that he was basing his ideas more on 'Late Joys' than the real thing. That doesn't stop me from being delighted to see all these familiar numbers performed in our oldest surviving music hall and performed by actors who were clearly relishing their work. Forget aspirations to anything other than having a good time and with a glass in your hand you could enjoy it almost as much as they do.
Ends Saturday 16th August.
Reviewer: Howard Loxton