The Winslow Boy
Terence Rattigan
Rose Theatre, Kingston, and touring
(2008)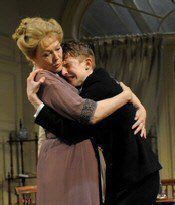 Stephen Unwin's splendid revival of Rattigan's play about a father's fight to prove the innocence of a boy at the Royal Naval College who has been branded a thief is a fine reminder of what a magnificently crafted play this and he has assembled a cast that gets it right.
Timothy West is particularly fine as Arthur Winslow, retired banker prepared to sacrifice his savings and his children's prospects for the sake of what he sees as a necessary fight against authority. He beautifully gets the balance between kindly paterfamilias and impatience with what irritates him, flashing into temper, tolerant of the suffragette feminism of his daughter Catherine (Claire Cox) and questioning her suitor (John Sackville) with open honesty in a scene with has gentle echoes of Oscar Wilde.
This middle-class household and their maid could so easily be the clichés of the conventional West End pot-boilers but Rattigan provides the material for the performers to make them real personalities. There is a comic servant Violet, but she is a person before she's funny and he avoids what could so easily be a conventional big emotional moment by making her the bearer of the key information in a scene which is a gift to the performer and Sarah Flind got it exactly right - receiving not just one round but two from the first night audience.
There is a brief but telling cameo from Rachel Edwards as a lady journalist, evidence of women already moving into a man's world, who abandons the interview with Mr Winslow to talk of curtains to his wife (Diane Fletcher) who is even more cut off from worldly things, in contrast to her daughter.
Although this is a play that centres on a legal case we never get into the courtroom, the nearest is the key interrogation of sacked naval cadet 13-year old Ronnie Winslow (Hugh Wyld) by fashionable barrister Sir Robert Morton which produces a splendid coup de théâtre. Catherine describes Morton as a fish and Adrian Lukas gives him a cold façade that seems oblivious to emotion but also suggests a man beneath who can be glimpsed momentarily.
With its core theme of an individual's rights against the State and its criticism of the world of politics, this is a play that can surely never date, although its format could now be thought old-fashioned. It asks why one should care about such things: while father and daughter are united in their stand the rest of the family, even the boy himself, have put the past behind them and get on with the rest of their lives, despite the ways in which they have been affected.
While on the surface Rattigan has written a play about early 20th-century mores and clearing one's good name, wrapping it up in a family drama it stands for so much more. Right through he has supplied an undercurrent of humour, never too obtrusive so that this is an evening of entertainment, drama and ideas.
Designer Simon Higlett has created an elegant white panelled room (though somewhat under-furnished for its period perhaps) and wittily reminded us that the play was written for a 'picture-frame' theatre and Mark Bouman's costumes include some stunning hats. As well as visually framing the play this production also frames it with the Blake-Parry Jerusalem, perhaps a too obvious reminder of the passing days of Empire, but more subtly echoing the thunderstorm that starts the play with what could be thunder, or perhaps the coming guns of war to end it.
This is a revival well worth seeing.
At the Rose Theatre until 30th May, then touring: Cambridge Arts Theatre 1s t- 6th June, Yvonne Arnaud Theatre, Guildford 8th -13th June, Theatre Royal Bath 15th - 20th June, Oxford Playhouse 22n d - 27th June, Malvern Theatres 29th June - 4th July, Milton Keynes Theatre 6th - 11th July, Churchill Theatre Bromley 13th - 18th July, Brighton Theatre Royal 20th - 25th July.
This production was also reviewed by John Thaxter
Reviewer: Howard Loxton