The Winslow Boy
Terence Rattigan
Rose Theatre, Kingston upon Thames
(2009)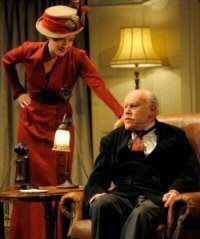 Who would have thought that Terence Rattigan's period family drama of a fight for justice against the powers-that-be, first seen in 1946, could also be enjoyed as a wry comedy with a political cutting-edge, making sharp digs at MPs?
The source of his plot, set just before the first world war, was the real-life case of a boy expelled from the Royal Naval College at Osborne for allegedly having stolen a five shilling postal order from a fellow cadet. The boy's father, believing his son's innocence, fights for 'right to be done', in the process destroying his own health and wealth.
Surprisingly there is no dramatic court-room scene and across the two-year period of elapsed time Rattigan cleverly restricts the action to the sitting-room of the Winslow's house in Kensington, while news of the case arrives by telephone, press report and excited messenger.
Indeed, in terms of the plot the boy's innocence or otherwise is almost secondary to the private cost of seeking justice and whether or not it was worth bringing a case
Reviewing a recent revival at the Salisbury Playhouse, a British Theatre Guide colleague praised the actor who was playing 'the stern central role of the veteran Arthur Winslow.' But in this brilliant new production by director Stephen Unwin, his second for the Rose Theatre, the marvellous Timothy West strikes delicious chords of ironic wit with almost every line of his performance, played as a grumpy but clear-sighted paterfamilias. As comedy playing of the very highest order this makes for an evening of unexpected and recurring delights.
The other big-hitter is Adrian Lukis as the parliamentarian Sir Thomas Morton KC who accepts the Winslow brief with a first act curtain line that never fails to delight the audience.
But Unwin has given Lukis the opportunity to rethink the role, replacing the usual frigid, almost hostile stance with an air of patient engagement and sly bemusement. And he makes his first and striking entrance in a black, tight-waisted overcoat that recalls Oscar Wilde, a hint of vanity in the centre parting of his abundant dark hair and some good but subtle business with his walking stick.
Indeed the whole cast brings a freshness to the play that makes one hope that we are on the brink of an overdue Rattigan revival. Diane Fletcher delightfully suggests the boy's affectionate mother — one who also enjoys the attentions of a female reporter (Rachel Edwards) admiring her sitting room curtains, while making the most of the opportunity to dress up fashionably for the daily court hearings.
Ronnie Winslow, the boy at the heart of the scandal, is played by 17 year-old Hugh Wyld with a lightness of touch and movement that he may have acquired as a West End 'Billy Elliott'. It's a performance which suggests that Ronnie may go the same way as his brother Dickie, who, having ploughed his Oxford exams, looks ready to teach Ragtime dance in a sunny, limber-legged portrayal by Thomas Howes.
Third lead is Claire Cox as Ronnie's energetic older sister Catherine, an unpaid suffragette who first appears wearing a suit and tie, a ' new woman' in support of her father, but here becoming something of a fashion plate with superb costumes by Mark Bouman that give this production its eye-catching sense of style and Edwardian glamour.
John Sackville and Roger May as Catherine's two unsuitable suitors make good use of their thankless roles, one as a military ass in thrall to his father, the other as a former cricket champion now reduced to a humdrum career as a solicitor.
But the performance that won a well-deserved personal round was Sarah Flind as the below-stairs Violet (about to get the chop as the Winslow cash resources dry up) who delivered her excited report of the finalé to the trial to tremendous theatrical effect.
Busy designer Simon Higlett has created a classy but uncluttered setting that will serve the company well as the production tours the UK, its pros-arch style of containment resolving the problems of blocking on the open Rose stage and will make the set fit a variety of venues.
May I also add that the first night audience gave both production and cast a terrific standing ovation that ran to four calls but could have managed more from an audience that buzzed its excitement at the interval then, at the final curtain, thanked its lucky stars for being there on such a night as this.
At the Rose Theatre until 30th May, then touring: Cambridge Arts Theatre 1s t- 6th June, Yvonne Arnaud Theatre, Guildford 8th -13th June, Theatre Royal Bath 15th - 20th June, Oxford Playhouse 22n d - 27th June, Malvern Theatres 29th June - 4th July, Milton Keynes Theatre 6th - 11th July, Churchill Theatre Bromley 13th - 18th July, Brighton Theatre Royal 20th - 25th July.
This production was also reviewed by Howard Loxton
Reviewer: John Thaxter