Winston and David
Robert Lloyd George
Maverick Theatre Company
Underbelly, Bristo Square
–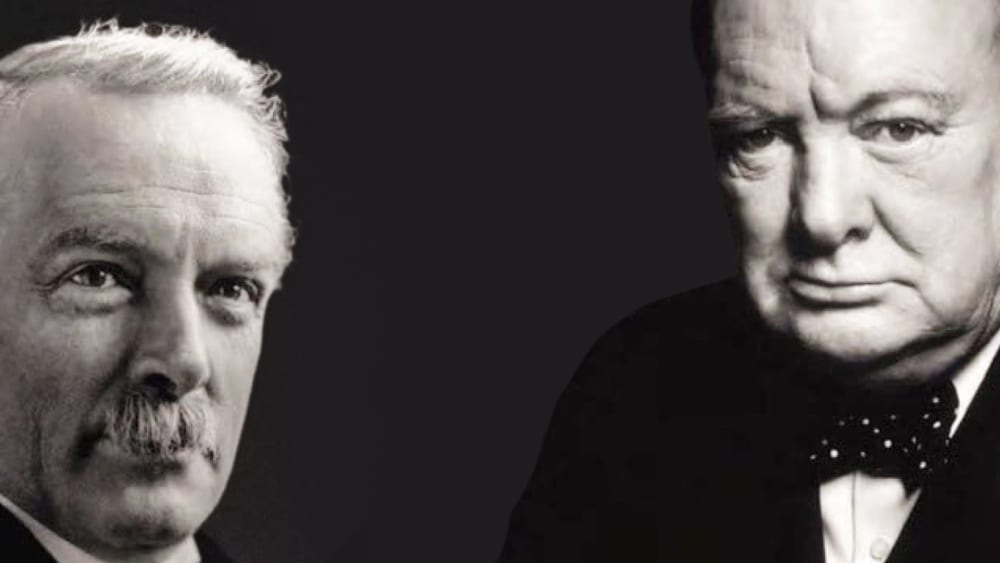 Robert Lloyd George, great grandson of the Liberal Prime Minister from 1916 to 1922, wrote the book David and Winston in 2005 because, "although there were thousands of books on Winston Churchill, none had explored the critically important relationship between the young Winston and his Liberal mentor David Lloyd George." This is the première of his script based on that book and his debut as a playwright.
The two politicians were on opposite sides of the House until young Churchill crossed the floor in 1904 to the Liberal benches over the subject of free trade, rejecting the policies of the protectionist Tories, which resulted in him being shunned by his former colleagues and snubbed in society circles, much to the annoyance of his wife, Clemmie. The two men were close colleagues and social reformers for the next ten years, although as the First World War approached, Winston was gung-ho about preparing for war when the Kaiser was seen to be moving his battleships, whereas pacifist David was much more cautious.
When David was Chancellor and Winston was in charge of the Admiralty, Churchill's disaster in Gallipoli seemed to have ended his career—for which he was bitter, claiming he was the fall guy and not the one to blame—but David told him to be patient and eventually brought him back to frontline politics.
The story is narrated by Frances Stevenson, known as 'Pussy', who begins (end ends) by telling us that her beloved David is dead, so now she can tell their story. She was engaged as a tutor to teach David's youngest daughter, after his elder daughter had died at the age of 17, something which continued to haunt him. She then became his personal assistant, then his mistress, and finally his wife after the death of his first wife, Maggie.
The two men came from very different backgrounds: David from a poor village in Wales; Winston from wealth and privilege. It's interesting that our current PM is often said to model himself on Churchill, and watching this, some of Churchill's worst traits when a young politician—his bluster, his enthusiasm for the fight, a blindness to the real plight of most people from a position of wealth and privilege, a tendency to insist that others are at fault when things to wrong—do seem much familiar in Johnson than his famous statesmanship as a mature wartime Prime Minister.
The script is largely a chronological account of historical information, which is interesting, but it is made theatrical by director Nick Hennegan's simple staging with just some wooden chairs and a table, although occasionally, the actions only repeat what we have been told making it unnecessary to have both.
David is played by Geraint Rhys and Winston by Peter Swales, but the whole piece is really held together by Alexandra Donnachie as Frances, who has a lot of factual information to deliver but she keeps it interesting and the ending, even though we know what's coming, has quite an emotional kick that took me by surprise, purely, I think, from her delivery.
A very interesting and perhaps not too well-known part of British history during the formative years of our most famous Prime Minister, well told and condensed into just an hour.
Reviewer: David Chadderton