Winter Solstice
Roland Schimmelpfennig (translated by David Tushingham)
Orange Tree Theatre
Home, Manchester
–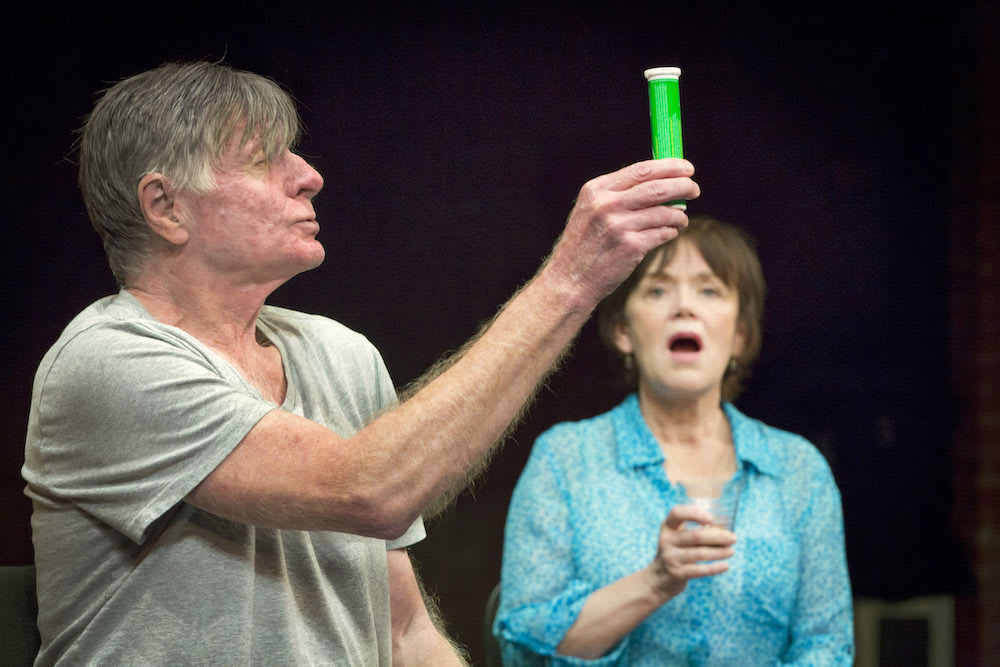 It is Christmas eve in contemporary Germany, and we are gathered at the home of Albert (an academic who also writes fiction) and Bettina (a maker of films that, by her mother's barbed account, "no one wants to watch"). Corinna (Marian McLoughlin), Bettina's mother, has arrived to stay; Albert (Felix Hayes) and Bettina (Kirsty Besterman) argue over who will ask her for how long. Bettina and Albert have a young daughter, Marie. Marie does not appear on stage and for the most part her lines are spoken by the other actors.
Two more guests arrive. The first is unexpected. Rudolph (David Beames), a man in his sixties, of German descent yet having lived most of his life in Paraguay, offered Corinna his overcoat, when their train was stuck in the snow. In gratitude, Corinna suggested, failing other options, he might spend Christmas with her and her daughter's family. Corinna is delighted by his arrival—her daughter and son-in-law rather less so.
To begin with, Rudolph is charming if eccentric (though Albert refuses to be charmed). While Rudolph plays Chopin and Bach on their piano, Albert takes more of his medication than is prescribed, ignoring the 'avoid alcohol' label to wash them down with several glasses of red wine.
The final arrival is Konrad (Gerald Kyd), an artist and lifelong friend of Albert. Konrad has recently told Bettina he loves her and the two of them are on the verge of an affair. To balance things up, the hyper-tensive Albert is already having an affair with Naomi (a young woman who works for his publisher).
"Do it on the radio." So runs Rita's famous answer to the exam question, "How would you solve the staging problems of Ibsen's Ghosts?" in Willy Russell's Educating Rita. For about an hour and a half of Roland Schimmelpfennig's Winter Solstice, it's hard to resist the same impulse. The five actors sit around four desks, arranged to form one large table. The table is already cluttered with debris—plastic cups and glasses, pens, paper, scissors, a jug and a bottle of water, etc. There are also what appear to be scripts and notepads lying around (though the actors never read from them). It's as if we are present at a read-through for one of Bettina's films (although the "stage directions", read aloud by the cast, are often so detailed, they might also come from one of Albert's stories).
As the play progresses, the charming Rudolph, a man who believes in old-fashioned words and concepts like 'chivalry', starts spouting more dubious notions, hinting, for example, that the prime duty of a woman is to bear children. Soon after, he breaks off from playing more Bach to ask why there are no great Jewish composers, blithely ignoring the examples (Mendelssohn, Mahler etc) thrown at him by Konrad.
Albert, having had an emotional phone conversation with Naomi (whilst he was in the bathroom, popping more pills), is mocked by his wife for his fear of confrontation. As Bettina herself notes, she rarely uses the word 'coward', but has aimed it at Albert twice this evening.
Rudolph has by now won Konrad over, asserting the importance of art in bringing light and truth. "There is no such thing as truth," says Albert (perhaps revealing the holes in liberal thinking, through which extremist right-wing certainties may force re-entry into our societies).
Emboldened, Rudolph now speaks of the pernicious nature of 'mixing' cultures, of there being a natural order. Comparing lesser mortals to 'aphids' sucking the life of the tree, he draws in Konrad with reference to the use of crushed aphids in forming pigments for oil paints.
As we reach crisis point, we finally enter a phase of the play which demands to be seen not merely heard (goodbye radio option). Albert has a seizure. When he revives, he throws a glass of wine in Rudolph's face and orders him from the house. At first, Rudolph accepts with regretful good grace. He steps out of the room only to re-enter moments later, in a red-faced rage, spewing a vile antisemitic outburst in Albert's direction.
This entire scene is then re-run, only this time there is no banishment. As Rudolph, who is a doctor, tends to Albert's recovery, a genuine (synthetic) Christmas tree (as opposed to the miniature paper cut-out or the tower of boxes and bottles used heretofore to represent the tree) is brought on stage. Candles are lit and, with the adult characters seated around the tree, the voice of the unseen Marie (Oriel Gooding) delivers a closing monologue. Perhaps we are being shown two possible futures?
The character of Rudolph certainly offers most to an actor and Beames exploits it to the full. His Rudolph is like Black Forest gateau laced with cyanide - sometimes delicious, sometimes sickly sweet but, ultimately, life-threatening.
Winter Solstice, in this production at least, is intellectually rather than emotionally engaging. This may be down to Schimmelpfennig's writing or Alice Malin's direction. Until the climactic scene, there is little to provide dramatic drive. The dialogue is witty and friction-laden, and the miming with table-top detritus is clever, but there is not the spark or the heart to grip the soul as well as grabbing the mind.
That said, many of the allusions will have more profound resonance with a German audience: e.g. when Bettina corrects Rudolph, emphasising that Konrad's painting is called The Struggle not My Struggle (Mein Kampf); when Rudolph leads a toast to "live a thousand years" (the aspiration of the Third Reich), or when the drug- and drink-addled Albert shouts at Rudolph (the doctor from Paraguay), "you are The Butcher of… You are The Butcher of…" (Auschwitz). I wonder how much of that passed by tonight's British audience members, especially the younger ones.
Certainly, Winter Solstice is a play of ideas and a play which sends the audience home pondering important matters is one which earns it place in our theatres.
Reviewer: Martin Thomasson