Winter Solstice
Roland Schimmelpfennig, translated by David Tushingham
Actors Touring Company and Orange Tree Theatre
Stephen Joseph Theatre, Scarborough
–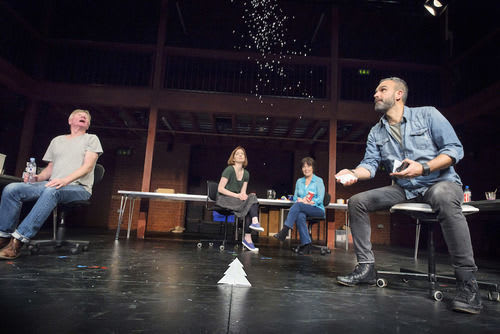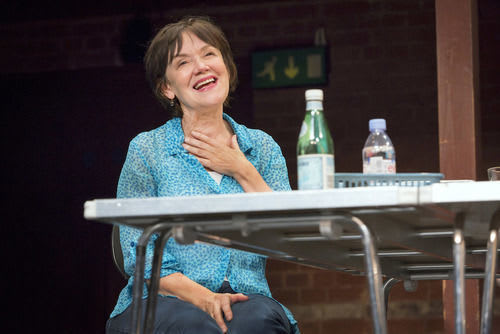 Roland Schimmelpfennig, one of Germany's leading dramatists, began writing Winter Solstice in 2013 as a direct response to the surge of far right politics that was erupting in Europe. The play subsequently received its British première at the start of 2017, just before Trump's inauguration. A year may have passed since then, but with Trump still in power and Brexit swiftly approaching, Winter Solstice remains a timely and urgent piece of work.
To explore the seductive powers of fascism, Schimmelpfenning plays with well-worn theatrical tropes. Like Ayckbourn's Season's Greetings (1980), Winter Solstice depicts a festive family get-together, where characters struggle to keep their deep-seated grievances under wraps. Into this fraught scenario, Schimmelpfennig also introduces a mysterious outsider who stirs up strong passions in the family and whose motives remain unclear until the very end.
Set on Christmas Eve in a middle-class Swedish household, an unhappily married couple—Albert (Felix Hayes), a writer, and Bettina (Kirsty Besterman), a filmmaker—await the arrival of the latter's mother, Corinna (Marian McLoughlin).
To the married couple's surprise, Corinna arrives with a man she met on the train—a smooth, cultured doctor named Rudolph (David Beames) who delights in playing Bach on the piano and pontificating upon abstract art. All the family are taken in by this charming stranger—except for Albert, who senses something sinister lurking beneath Rudolph's ingratiating exterior.
Winter Solstice is a deeply impressive play that elucidates how easily extremist views can be transmitted. Over the course of 110 minutes, we watch a bunch of educated and liberal people topple like dominoes in the face of Rudolph's supreme confidence and certainty. Even Albert, the author of several books on the Holocaust and supposedly the most intelligent of the group, is powerless against him.
Schimmelpfenning eschews outright naturalism by having the characters narrate each other's internal thoughts, which gives the production an overtly novelistic quality. That being said, Ramin Gray's staging, which has been revised by Alice Malin, means that the play remains dynamic and well-paced.
The naturalism of the piece is also undermined by Lizzie Clachlan's unconventional set design, which is composed of swivel chairs and trestle tables upon which there is much random debris (stationary, glasses, half-empty bottles of water and sweet containers). These props, combined with the actors' casual attire, suggest a rehearsal room rather than a naturalistic drama.
David Beames impresses as Rudoloph, capturing the character's surface appeal whilst suggesting devilish undercurrents. Maria McLoughlin gives a heartfelt performance as Corinna, a lonely woman who succumbs to a stranger's unexpected interest in her.
Felix Hayes excels as Albert, deftly conveying the character's pomposity and self-absorption. He also scores the biggest laugh of the evening when Albert is unable to read his mistress' farewell letter because his mother-in-law has sat on his reading glasses.
Kirsty Besterman is suitably brittle as Bettina, conveying the character's frustration with her disapproving mother and disappointing husband. There's also a fine supporting turn from Gerald Kyd as Konrad, an artist, who carries a torch for Bettina.
Unfortunately, this tour of Winter Solstice has come to an end, but I would I recommend catching this excellent production if it is ever revived.
Reviewer: James Ballands