The Winter's Tale
William Shakespeare
Propeller Thatre Company
Watermill Theatre, Newbury
(2005)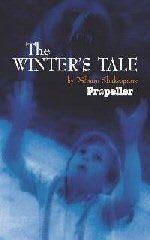 I yield to no man in my admiration for the Bard, but even Stratford's finest had his off days. There are certain of his plays, as Corin Redgrave recently remarked, that could be jettisoned, should circumstances necessitate, without engendering any real sense of loss. Into that - slim - canon I would thrust the second half of The Winter's Tale in which hey-nonny-noh-ery runs rampant.
And I have to say that, marvellous though the Propeller company's production at the Watermill is, it fails - for me at any rate - to transform this sow's ear of a second half into a silk purse. The play seems akin to the children's game of consequences in which a sentence is constructed by several people in turn without reference to what has been written so far - (with "hilarious results").
Thus the first half, a study of almost psychopathic jealousy and rage centred on the court of Sicily, gives way to shepherds and shepherdesses amid the rural idyll of bucolic Bohemia. It's as if Quentin Tarantino died halfway through Reservoir Dogs and the producer and writer of TV's The Tweenies took over.
That said, the company make this flimflammery as funny as it can be - and a lot funnier than it deserves - and it comes after a spellbinding first half which sharply points up, if it needed to be, the slough of mediocrity in which the well-heeled RSC, is currently becalmed. Necessity truly is the mother of invention.
The most obvious difference between Propellor and the RSC is that the Propellor productions are performed by an all-male cast. There is no suggestion, however, of pantomime damery. Another crucial difference is that productions directed by Edward Hall seem born out of a sense of necessity, resulting in a freshness of approach and inventiveness which can be seen and felt throughout. Too often, as one critic is wont to remark, Stratford seems to stage a production of a play because its time has come around again (and again). Do we really need another production of As You Like It - coming to the RSC again this summer - two years after the last, lack-lustre outing there?
But to the production in hand. The first half of The Winter's Tale is a pip, spellbinding from the start with its images of the passing of time - a pyjama clad Mamillus, son of Leontes, the King of Sicily, watches sand trickle from the ceiling on to the stage - through to lights out an hour and a quarter later - the action achieving a hurtling, headlong momentum thanks to some judicious directorial intervention by Hall. The twelve-strong cast, who provide musical accompaniment, are all first-rate, doubling and even trebling roles.
While it seems invidious to single out individuals, Richard Clothier is a very fine Leontes who kicks his prone and pregnant wife and who has to be held back by several courtiers from exacting further furious reprisal, while Simon Scardifield is both a dignified and moving Hermione, his queen, especially so in his/her courtroom speech, and a very funny 'shepherdess'. Tony Bell has great fun as the rogue drifter in the Bohemian revels of the play's second half.
Award-winning designer, Michael Pavelka, creates a set apparently informed by the early films of Fellini, though this went over my head. The result is many images and scenes which, as another critic remarked of the company's Dream, you want to wrap and take home, to unwrap and enjoy again in less happy times. I am certain my reservations about the second half of the play (which ends with a less than optimistic reconciliation at the court of Sicily) will not be shared by many theatregoers who will delight in the exuberance of the cast. Nor would I want these to deter anyone from seeing this beguiling production.
Peter Lathan reviewed this production at the Theatre Royal, Newcastle, at the end of its tour.
Reviewer: Pete Wood