Wipers
Ishy Din
Curve, Belgrade Theatre Coventry and Watford Palace Theatre
Curve, Leicester
–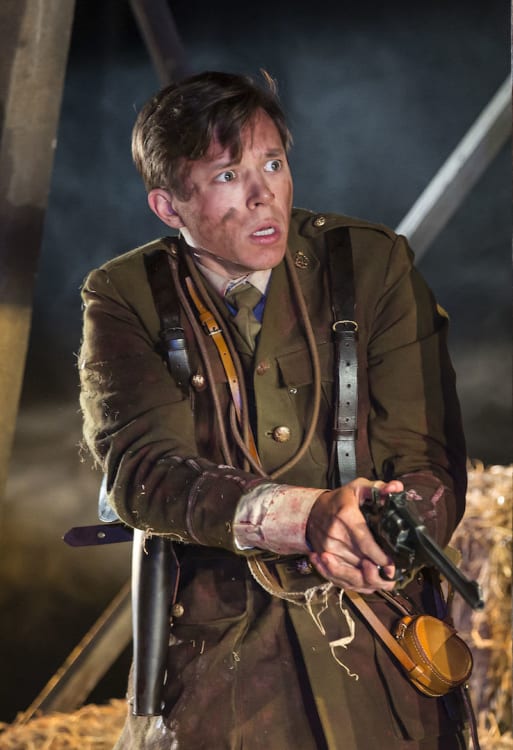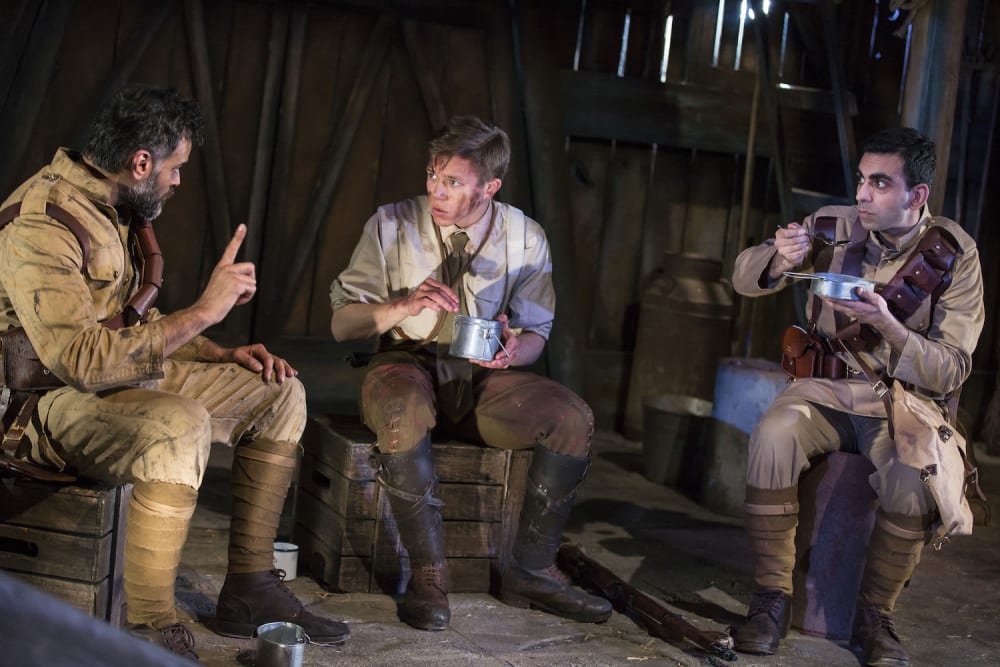 Wipers (a mispronunciation of Ypres by the ever-inventive WWI soldiers), is a new play highlighting one of the Great War's less well known figures: Sepoy Khudadad Khan of the 129th Baluchis of South India.
Khan was the first Asian to be awarded the Victoria Cross, single-handedly holding his depleted regiment's trench position until his last bullet was fired. After evading the Germans and despite severe injuries, he reported back to HQ, having ensured the safe passage of British reinforcements.
A co-production with Belgrade Theatre, Coventry and Watford Palace Theatre, Wipers began life in workshops three years ago. Writer Ishy Din has Khan as the unseen figure in this 100-minute four-hander, as Sadiq, AD and Ayub from Khan's regiment and their newly-arrived young English officer, Thomas, are holed up in an abandoned Belgian barn.
We hear Khan, however, with his constant machine gun fire as the men wait, although they know that when the gun stops, it will mean all their regiment are dead.
After an explosive start, the dust settles and Sadiq (Simon Rivers) and Thomas (Jassa Ahluwalia) tentatively establish their situation and order, to be joined by AD (Sartaj Garewal) and young Ayub (Waleed Akhtar).
Coping with long periods of inactivity punctuated by extreme stress is a large part of a soldier's life, and this play does seem to mirror that element, with little in the way of dramatic action and some time taken to get going.
However, from mid-way onwards, the energy and emotion develop and there are some heartwarming scenes: Thomas is enthralled as AD prepares a meal, the two men finding a way through AD's lack of English and the well-educated Ayub and Thomas discover a shared and deep dislike of cricket. It is fascinating to note the similarities and differences between these men, from different continents and cultures yet 'over here' for a shared purpose.
There is also nothing like a shared meal to bring people together and in this case, AD prepares the great leveller dhal on stage using his bayonet to chop ingredients; the aroma of spices and garlic wafting through the auditorium is a great directorial touch by Suba Das.
The Wipers creative team, headed by Isla Shaw (designer), Prema Mehta (lighting design) and Jon Nicholls (sound design), deliver atmosphere and attention to detail.
All four actors are strong but it is Ahluwalia's portrayal of Thomas which really stands out; the three Indians have come from thousands of miles away to fight for their colonial masters, yet it is a woefully inexperienced Englishman in charge of more savvy soldiers who travels the furthest. Thomas's initial fear and bewilderment is painful to witness, and his gradual belief in his own role is well-pitched.
World War I is associated with huge loss of life, the numbers of dead and injured often rounded up to 'neat' millions and hundreds of thousands. Wipers is a thoughtful addition to the World War I pantheon, and a reminder that every statistic includes an individual with a family, traditions, culture and their own personal reasons for involvement in a war that ensnared the world.
Reviewer: Sally Jack