Wired

Lesley Wilson
Army @ the Fringe in Association with Summerhall
–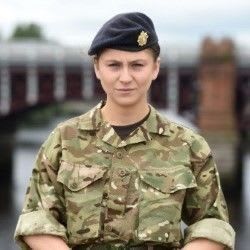 After thundering onto the Fringe in 2017 to sell-out performances, Lesley Wilson's Wired returns for another tour of duty. Unlike the repetitive nature of much of the military experience that it portrays, there is nothing rote about the play.
Following Joanna, a girl who has decided to join the forces after school, we see the mixture of excitement, nervousness, joy and horror she finds as she trains and serves abroad, during which she'll discover much about herself, as well as much about the world that she can and can't handle, all while being questioned by her concerned mother.
It's a powerful and yet almost fragmentary experience, as the three actors move about the almost empty space under lighting that snaps to each new situation or theme. Jasmine Main's performance of Joanna balances the precipice of belivability from eager schoolgirl to tortured soldier with credibility and a friendly affable charm, while Caroline Lewis portrays her mother with a heartwrenchingly real sense of futility and despair, harranguing bitterly and lamenting in equal measure in a fashion that is all too real. Their dynamic forms much of the narrative, as their vying uncovers old truths and facets only as each is stripped of more and more emotional armour.
Wilson's treatise on the harmful effects of combat works precisely because it never points a finger of blame. There's no villain here. There are only victims. The tantalisingly credited Voice, played by Una McDade, does at times border on the patronising, as it portrays the official face of the Armed services through the words of various officers, bureaucrats and specialists.
In fact, it's precisely in the combination and transposing of the play's three voices that we come to understand not only the pain of Joanna but that of her mother and of the gulf that separates them both emotionally and mentally. The cacophany of words at times threatens to overwhelm everything and, in doing so, puts the audience into Joanna's mindstate without ever needing to resort to any exposition or flat stating.
It's a play that leaves you without answers, in a state of hopeful concern, shaken, outraged and yet still somehow humbled.
Reviewer: Graeme Strachan