Wisdom of a Fool
Jack Lane and Martyn Bell
Engine Shed Theatre in association with The Capitol Theatre
The Capitol Theatre
–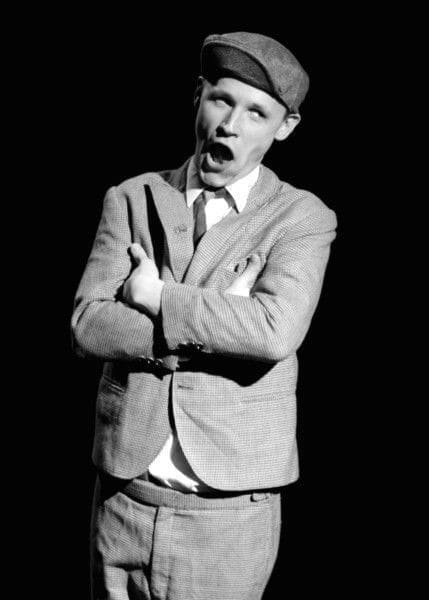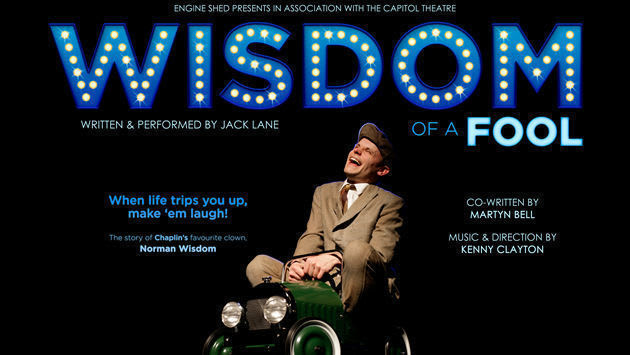 British theatre has taken a nostalgic turn in recent years producing a plethora of one-man shows focussing on the careers of national treasures. Wisdom of a Fool happily joins this cohort providing a fitting tribute to comedy legend Norman Wisdom.
Unlike other plays of this type, however, this is a fully-staged, two-act play in which Jack Lane effortlessly moves us through Norman's rocky upbringing, his army years and eventually the highs and lows of his hard-won stardom.
Beautifully crafted, the script (co-authored by Jack Lane and Martyn Bell), is unashamedly hard-hitting but also carefully balanced, allowing the audience a revealing glimpse into the hard times without dwelling on the difficulties. Through this interpretation, it is easy to see how Norman's work ethic developed alongside his instantly recognisable act.
The unmistakable walk, laugh and prat-falls are captured perfectly by Lane who is a delight to watch as Norman. Serious study has clearly been undertaken to mimic so effectively but Lane's performance goes beyond a carbon copy, presenting us with a fully-rounded interpretation of Norman. Lane instantly builds a rapport with the audience and they willingly buy into the spirit of the production.
Far from a lengthy monologue, the show pays homage to various slapstick routines, Norman's musical talents and the 1950s world of show business. The Pathé newsreel-style moment reflecting the screening of his first film is packed with quirky cameos (Lane clearly relishing the clichés) and the short extract from Trouble in Store is also a highlight.
Seemingly simple and certainly effective, the staging allows Lane the space to perform but also the ability to utilise myriad props including a piano, office desk and dolls' house. None of the objects gains a context until Lane uses them to illustrate a point and then they come alive with meaning, the best example of which would be the costume rail sitting isolated at the back of the stage, which eventually represents the shop where Norman discovers his Gump suit. This section is played with such reverence that you could hear audible gasps from the audience as Lane's final transformation into "Norman the star" took place.
Full of lovingly thought-through details, including a title sequence (which sets the tone perfectly), curtain drop and even comedy signage, the laughter quota is high and the emotional rollercoaster turbulent.
Lane's performance is truly incredible as he explores the facets of Wisdom and it would take a heart of stone not to be moved by the way his experiences are portrayed. Existing fan or not, this play should inspire everyone to go and re-watch Sir Norman in action with a renewed insight into the man behind the suit.
Reviewer: Amy Yorston