Wish List
Katherine Soper
New Celts Productions and Bone Struck Theatre
theSpaceTriplex
–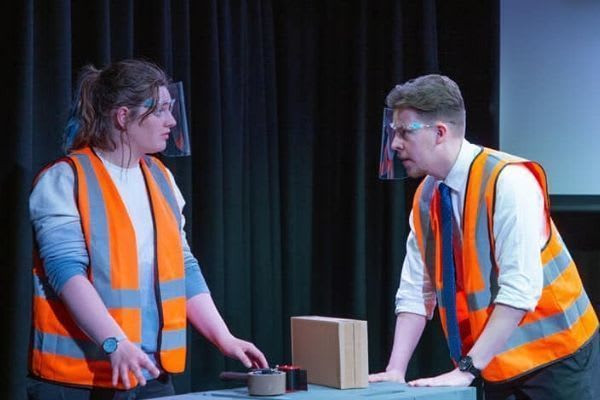 Katherine Soper's Wish List is a play concerned with, but not constrained by, the big issues it addresses. As well as delving into the unsung aspects of being a carer, it also peers deep into the hardships of those forced by necessity into the double poverty-trap of having to argue and fight over every penny of benefits, while working the most exploitative zero-hour contract jobs. All while telling a human story of believable enough characters with their own needs and goals.
It's telling that at first glance, the audience were almost primed to start laughing, as Michael Robertson as Dean stands at a bathroom mirror gelling his hair with a grim fascination as his sister Tamsin (Chloë Johnson) tries to talk him through some basics of the day. It's in those first minutes that it quickly becomes apparent that he is suffering from a debilitating obsessive compulsive disorder, and this isn't something the piece will ever treat with less than grave seriousness.
Dean cannot function by himself, and to make ends meet, Chloë needs to work in the huge, unnamed Amazon Warehouse proxy, sealing packages for delivery and trying to hit almost impossible quotas while following Kafka-like bureaucratic rules about toilet breaks, lunches and mobile phone use. Luckily, she is working with the carefree and cheerful Luke (Josh Dobinson) who can cover for her under the watchful scrutiny of their department Lead (Jack Elvey).
It's a fine piece of theatre, with some great performances from a charismatic cast. Everyone performs admirably, but with the special mention of Robertson, who captures the ticks and affectation of Dean brilliantly as he gets more and more wound up and frantic in heated situations. The brunt of the work is done by Johnson, as this is Tamsin's story above all else. The frustration that the work scenes create is almost palpable; the webs of rules and bureaucracy at play will be familiar to anyone who has worked in minimum wage job, and yet never steers the situation or the character of Lead into farcical or satirical territory.
If there is a downside to the play, it's that the ending is somewhat underwhelming. It's a problem inherent to the material, feeling like it needs a few more scenes to round out everything to a truly satisfying conclusion. But it's far from a dealbreaker in this excellent piece of Fringe theatre.
Reviewer: Graeme Strachan