The Witches
Roald Dahl, adapted by David Wood
Lyric Theatre, The Lowry, Salford
(2005)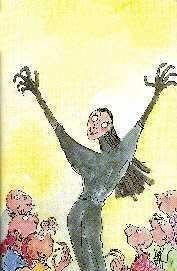 This is a spectacular production of David Wood's adaptation of Roald Dahl's The Witches, with a large cast, projections, puppets, magical illusions and lots of quite elaborate scenery. Wood's dramatisation stays faithful to the book while skilfully adapting it to the stage, and Birmingham Rep's production, under the direction of Jonathan Church, brings the whole thing wonderfully to life.
Dahl's story centres on a young boy (only ever referred to as 'boy') whose parents were killed in a car crash and who now lives with his grandmother. She tells him stories about witches who kill children, which he doesn't believe until he actually meets one whilst playing in his beautifully designed tree house. When his grandmother falls ill, the boy goes with her to Bournemouth to convalesce, but they find themselves staying at a hotel that happens to be hosting a convention for English witches.
The production makes great use of elaborate scenery (designed by Simon Higlett), projection (designed by Second Home Productions), puppets (made by Craig Denston) and stage magic (directed by Paul Kieve, who worked on the recent Scrooge production starring Tommy Steele). Apart from a painted backdrop for the front of the hotel, which looked rather old-fashioned and completely out of place, the scenic design is just perfect, bringing to three-dimensional life the places described by Dahl and drawn by the fantastic Quentin Blake in the books. The witches turn children into mice, which are sometimes represented by actors in costumes against outsized scenery and sometimes by Denston's amazingly expressive mouse puppets. Although they are more the size of small dogs than mice, these superb creations, many of which are remote controlled, speak and move so fluidly that it is very easy to believe in them.
There are some wonderful comic set pieces in this production - especially the hilarious dumb-show piece where the boy and his greedy friend Bruno, both now mice, try to climb an enormous staircase while Bruno is distracted by a huge wrapped chocolate. The scene just before the interval at the witches' convention seems a little over-long, but this is made up for in the second half when the action and the comedy come thick and fast.
There are some excellent performances from the actors too. Dilys Laye is superb as the boy's grandmother, and Giles Copper and Keith Saha as the boy and Bruno form an excellent team - both as boys and as mice. Katerina Jugati is suitably nasty and scary as the Grand High Witch, with Catherine Skinner grovelling next to her as her sidekick. There are no weaknesses in the rest of the cast - even those billed in the programme, rather sinisterly, as the 'Witches of Salford'.
There was a wide age range amongst the spectators at this performance, from young children to adults, and all seemed to have a great time. Despite a very short running time, there is a lot packed into this production to appeal to both children and adults.
"The Witches" runs until 29 January 2005
Philip Fisher reviewed the version which played at London's Wyndham's Theatre, starring Ruby Wax
Reviewer: David Chadderton