The Witches of Eastwick
Book and lyrics by John Dempsey; music by Dana P Rowe; based on the novel by John Updike
Lyceum Theatre, Sheffield, and touring
(2008)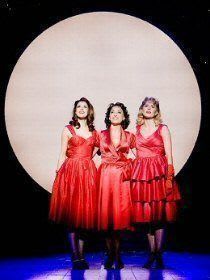 Based on a novel by John Updike and a film with Jack Nicholson, Michelle Pfeiffer, Susan Saradon and Cher, one could expect a lot from the musical version opening originally in 2000, with the current production directed by Nikolai Foster, on tour since August 2008 and continuing till May 2009.
The backwater town of Eastwick was very set in its ways, with Felicia (played by Rachel Izen) firmly in charge, keeping in check, or so she thought, her husband Clyde (James Graeme). But there were three lonely ladies, one with a young son, Michael (Chris Thatcher) pining for Jennifer who was off to college, who sat discussing their lack of opportunities. They were seemingly unaware of the magic powers at their disposal with a toast to the devil whom they conjured up in the shape of Darryl Van Horne, well recognised by the audience as Marti Pellow.
It is very much a play of two halves, with the first act a musical sex romp with Darryl Van Horne, sung and played devilishly - especially played - who certainly stirred up the three sexually frustrated ladies (Ria Jones, Rebecca Thornhill and Poppy Tierney), leaving the men even more frustrated by their lack of luck with their own lives.
Meanwhile the remaining good ladies of the town frowned on their antics and carried on with their home chores, especially washing their dirty linen in public. There were many songs, lots of dancing and elegant solos, although on occasions, in a battle between the singers and the orchestra, the music triumphed. The witches finally got whisked up into the flies in a cloud of dry ice, singing as they went, preumably to enhance their witching skills.
After the interval, problems started and the witches began to realise that there were differences between men and women, though it was not entirely clear who triumphed over whom. The devils came into their own in a riotous red performance until at last, witchcraft returned to work its solution, with the aid of a doll, needles, and eventually a firm bite and the devilish Van Horne was vanquished. This was just before he had time to wed Jennifer (Joanna Kirkland), hitherto a sweet young thing at College in Stanford, leaving her to return to Michael who had also been having some sex advice while she was away.
This production was reviewed by Sheila Connor in Woking, by David Chadderton in Manchester and by Peter Lathan in Sunderland
Reviewer: Philip Seager