With One Look
Devised and created by Daniel Bell and Gregory Hazel
KD theatre Productions Ltd in association with Harlow Playhouse
The Union Theatre
–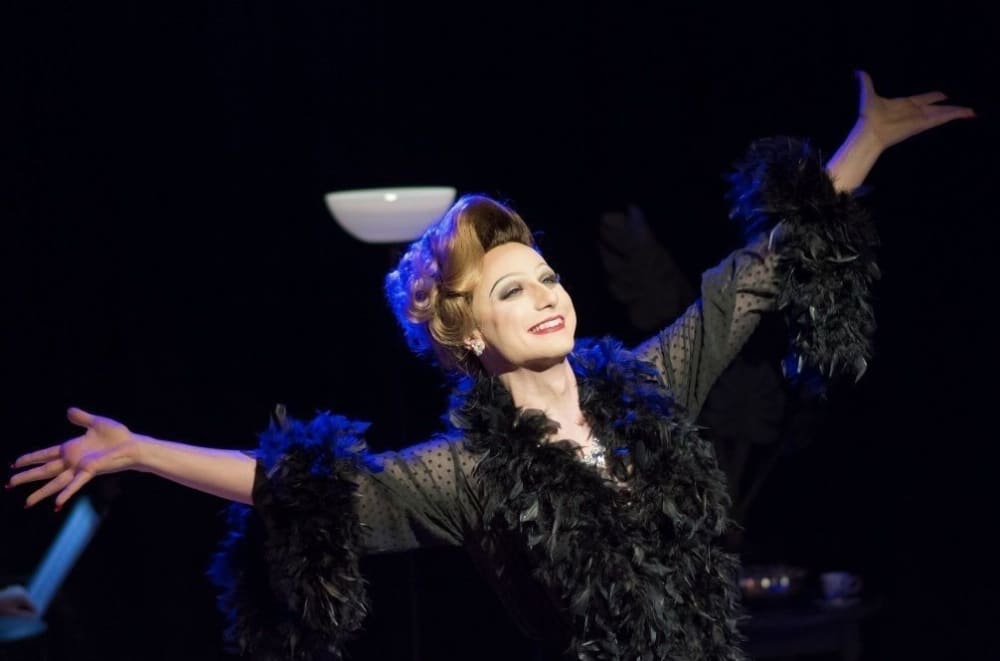 2018 marks a joyous year for drag. Not only is the form alive and well on television, in bars and upon stages across the country, but a new production by KD Theatre brings the form to the fore and celebrates the rich contribution of female artists to the world of musical theatre.
With One Look tells the tale of Vivienne de Vil, a theatrical darling who knows everyone there is to know and responsible for getting many of the leading ladies of the day their most important role to date. From Judy Garland to Julie Andrews and Bette Midler to Barbra Streisand, the production effortlessly weaves together the history of musical theatre's significant players whilst revealing some unknown stories behind the Tony and Olivier Award-winning grand Dames.
KD Theatre Productions presents its first cabaret-style show starring panto regular Gregory Hazel. Having successfully mastered the role of Wicked Queens and Enchantresses, Hazel is put to the test in a new guise as Vivienne, who stars in her very own two-hour show complete with many a memorable musical number.
A 101 of musical theatre, the hits come thick and fast as Vivienne introduces her audience to the world of "Don't Rain on My Parade" and "Somewhere over the Rainbow". A singer with an exquisite voice, Hazel knows how to deliver a number and never ceases to impress with his vocal prowess in an evening full of musical gems.
Set in Vivienne's humble abode, the audience is introduced to her many celebrity friends including personal band members Michael Bazzoni on percussion and Henry Brennan on keys, who also acts her romantic interest. The interior setting works well to make the audience feel like guests in Vivienne's world, but the production really takes off in the second act where the visitors become active participants rather than passive observers.
The first act delivers many an emotive ballad and upbeat number, but behind the sequins and anecdotes lies the question, "who is Vivienne?" With so much history delivered in her dialogue, one cannot help but yearn for more of the dramatic diva and learn why it is that she has been drawn to sing such powerful songs.
Hazel is at his best when emoting ballads full of passion and satirising figures such as Bernadette Peters and Elaine Paige. A key concept of drag, parody works to expose the iconography of a performer and establish rapport through the shared acknowledgement of particular traits. When Vivienne encourages the audience to sing along replacing "Roxie" with "Vivienne" in one of Chicago's most iconic numbers, she thus exposes the real intent of her performance and a hint of bitterness that, whilst part of their world, was never quite the centre of attention.
Equally, when a male member of the audience suddenly finds himself in the spotlight during musical number "Poor Unfortunate Souls", Hazel revels in the production's participation and control he as Vivienne has over the audience, each one a subject for consideration and opportunity for the mining of material.
Seductive, sassy and sentimental, With One Look celebrates the greats with panache, but would benefit greatly from exposing more of Vivienne's story, her vulnerability and personal reasons for inviting the audience in. Packed full of musical theatre highlights, KD Theatre Productions delivers an evening full of entertainment and glamour, honouring not only the divas of the stage, but many a queen too.
Reviewer: Simon Sladen